Samsung has already rolled out official stable Android 9.0 Pie based on the manufacturer's popular One UI firmware update. Users of the Samsung Galaxy S9, S9 Plus, Note 9, S8, and Note 8 have been eagerly waiting for the next generation Good Lock updates. the wait is over and Good Lock 2019 APK is here that supports Android 9.0 Pie based on One UI. Here we have listed the direct Good Lock APK downloads for all the Samsung Galaxy phones running Pie or even the earlier 8.0/8.1 Oreo.
Along with the main Good Lock 2019 APK, here we have the updated Good Lock plugins and modules including Lock Star, Quick Star, Routines, Task Changer, Routines, Clock Face, One Hand Operations +, Edge Touch, and Edge Lighting+. We also have some newly introduced Good Lock plugins including MultiStar for advanced multitasking purposes, NavStar for Samsung's new navigation bar customization options, Nice Catch for app usage details, and Sound Assistant for advanced audio controls. The stunning Samsung Edge Gestures are already updated to support Android Pie with the new One Hand Operation + plugin.
Moreover, the newly launched Galaxy S10E, S10, S10 Plus are also supported. Earlier, we have posted about the Good Lock 2019's complete changelog. Here are the set of APK downloads as we promisingly reported that it will come on March 8, 2019. If your device is running Android Oreo, then download Good Lock 2018.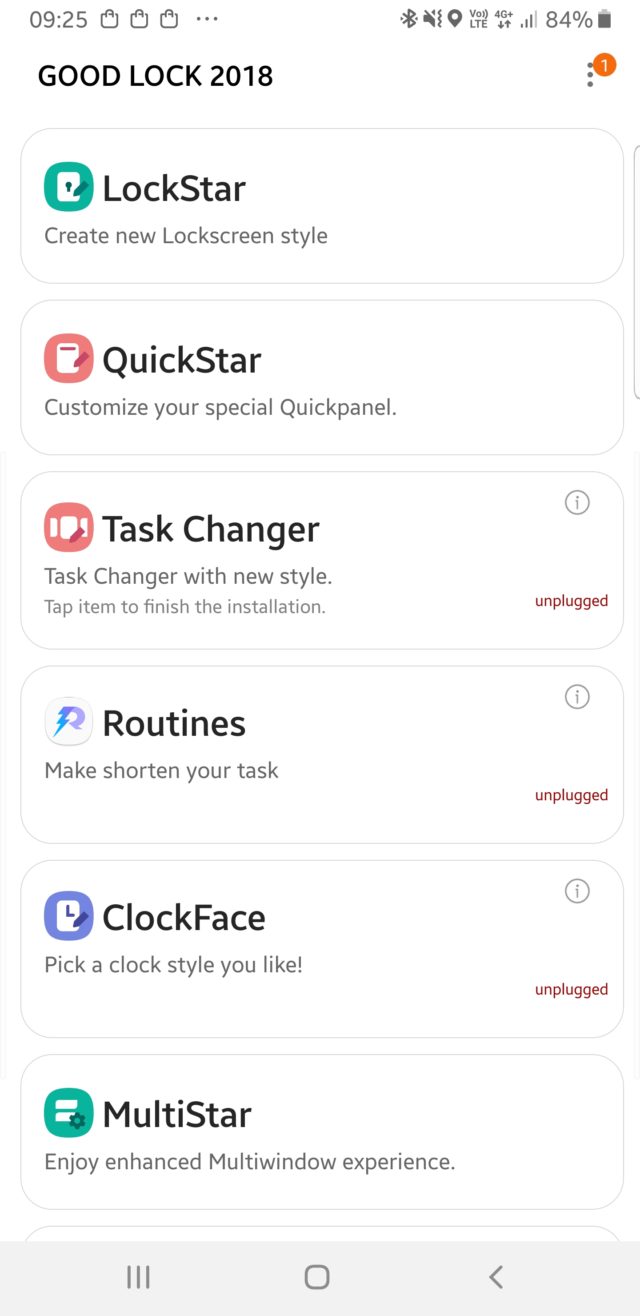 Good Lock 2019 APK download with updated plugins and addons
Method 1: Galaxy App Store
If you already have Good Lock app installed along with all of its plugins, then you can simply launch the Galaxy App store, search for Good Lock app and install it. Launch Good Lock and then install each and every plugin or addon from it. The direct links are also listed below.
Method 2: Direct Links to Good Lock Plugins
Alternatively, you can simply visit the links from below. These are direct links to Good Lock plugins on Galaxy App store. Open the following links using your Samsung Galaxy device only!
Method 3: Direct APK Downloads
If Good Lock 2019 may not yet be available in your region like France and other parts of Europe, then you can download the APK from below and install it directly.
As Good Lock is area restricted, you will see blank when you open Good Lock. So you can visit our original post in order to see how to setup Good Lock using our Good Lock 2018 installation tutorial to see how to setup for beginners. Additionally, you can also use Bad Lock as an alternative.
See how to install and use the latest Good Lock apps in regions where it is not yet available. Or watch the video below,
You may also like:
Some devices may still be on Android Oreo based on Samsung Experience 10. Don't worry, you can still downlod and install the latest set of Good Lock APK from here.