Updated: Samsung Galaxy S8 and S8 Plus (Snapdragon variants) get new software update for the leaked Android 9.0 Pie One UI beta. This new OTA update comes with new firmware build number G950USQU5DRL7 and G955USQU5DRL7 for the S8 (SM-G950U) and S8+ (SM-G955U). The update also features January 2018 security patch, new boot animation for AT&T, camera scene optimizer toggle, fixed lockscreen pull down lag, and Bright Night support coming soon in next update. So stay tuned!
Original Post: Following the leaked One UI beta update for the Note 8, here we have the Android 9 Pie firmware available for the Galaxy S8 and S8 Plus. This update comes to the Snapdragon variants for all the network carriers in the United States. OTA update zip is now available  in the downloads section below for the Snapdragon S8 Plus users. See how to update Galaxy S8 (Plus) to Android 9 Pie One UI beta.
Samsung's Android 9 Pie beta program is currently live for the flagships Note 9, Galaxy S9, and the S9 Plus for both – Snapdragon as well as the Exynos variants. It features latest One UI firmware update, formerly known as Samsung Experience 10. The manufacturer claims it to be faster, smoother, and meant for one handed operations as well. The update also brings all the Android 9 Pie goodies along with updates Samsung apps with new features.
One UI for Galaxy S8 devices features new build number G950USQU5DRL6 and G955USQU5DRL5 for the S8 (SM-G950U) and S8+ (SM-G955U) respectively. In order to update, simply grab the latest One UI OTA update zip (DRL5) and flash it using stock recovery or ADB sideload method. However, first, your device needs to be on stock Android 8.0 Oreo G955USQS5CRL1 build. We have all the files available below.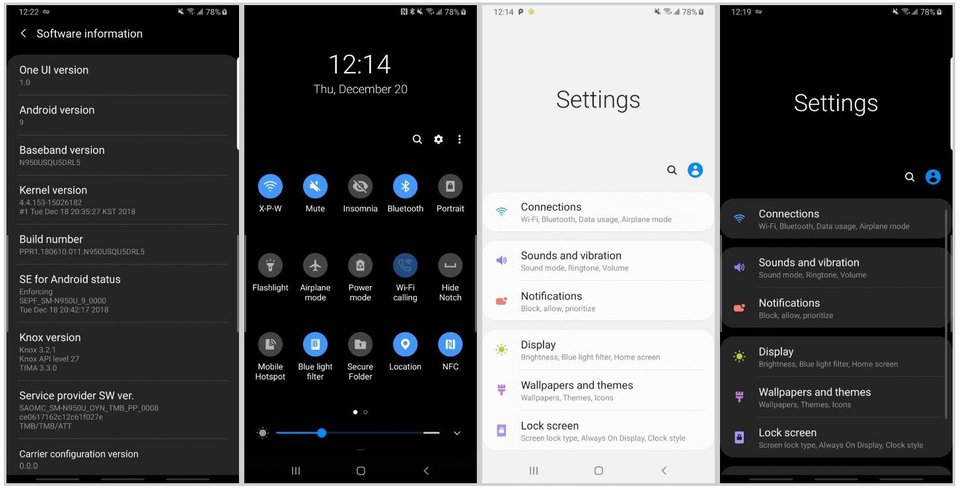 Download Android 9 Pie One UI Beta for Galaxy S8 and S8 Plus
Note that this is a leaked OTA for Galaxy S8 from the internal testing program at Samsung. So the installation method is manual and you will need to sideload next OTA updates manually too. So stay tuned as we will update the files here. Also note that this is only for Snapdragon variants.
Downloads for Galaxy S8 Plus:
Downloads for Galaxy S8:
Odin Flash Tool:
How to update Galaxy S8 (Plus) to Android 9.0 Pie One UI Beta
Summary: First, make sure your device is on Android Oreo CRK1. Then install second Oreo OTA update CRL1. Finally, install the Android Pie Beta DRL5.
While OTA installation via stock recovery install should work perfectly fine, here is the ADB sideload method. For detailed instructions, visit: How to install Samsung Experience 10 onto Galaxy S9 (Plus)
Prerequisites:
OTA update zip installation via Stock recovery method:
Step 1: Make sure your Galaxy S8/S8+ is on the Oreo firmware G955USQS5CRK1 build. If your phone is already running CRK1, skip this step and proceed. Also, see how to install Samsung stock firmware via Odin flash tool.
Step 2: Download CRL1 and One UI Beta 2 (DRL7) OTA update files from above. Transfer files to PC, Mac Book, or Linux machine. Also, keep a copy of the update zip on your phone's storage or SD card.
Step 3: Reboot your Galaxy phone into Recovery mode. To do so, turn of your phone completely and then press and hold Power + Volume Up + Bixby.
Step 4: From the stock recovery mode, use the volume buttons to navigate and select the option "apply update from SD card".
Step 5: Navigate to the update zip file (CRK1 to CRL1) in SD card and hit power button to select it.
Step 6: The update will then start. The update can take between 2 to 10 minutes. Once you finish this step, skip to step 13.
Step 7: Repeat the same for the Android 9 Pie OTA update zip CRL1 to DRL5.
Note: You can also, issue the following command through cmd or terminal to reboot into recovery mode.
adb reboot recovery
OTA update zip installation via ADB sideload method:
Alternatively: If you don't have an SD Card, use the volume buttons to select the "apply update from adb" option. Then open a command window on you PC
Step 1: Connect Android phone to PC. Now open a command prompt or terminal window on your PC where the OTA update zip is present. To do so, type cmd in address bar and hit Enter key.
Step 2: Now go to device recovery and select "Apply updates from ADB".
Step 3: Navigate to the location where you have placed the OTA file on your PC. It's time to flash the OTA by issuing the following command. (Note that you type the exact name with its proper extension.)
adb sideload <filename>.zip
Note: Here it will be adb sideload update.zip Put the exact file name in the <filename> section without "<>" and proper extension.
Step 4: Approve the update and wait till the upgrade completes.
Step 5: Reboot device to system.
Note: While, on Mac OS, you can issue "./adb sideload <filename>.zip" command or on Linux type "sudo adb sideload <filename>.zip" to flash the OTA. Check out the complete tutorial from here.
You may also like to see: How to restore back to Android 8.0 Oreo
Soon the One UI Beta will be available for the Galaxy S8 international Exynos variants a (SM-G950F/FD and SM-G955F/FD). So stay tuned. Thanks to Samsung Firmware Science for the OTA.