Lineage OS 15.1 is the next big thing when it comes to custom ROMs. The LineageOS Project developers have announced recently that they may very well jump from official Lineage OS 14.1 to Lineage OS 15.1 ROM nightly builds. So the LOS 15 may never be a thing for most of the Android phones. We are already seeing Lineage OS 15.1 builds for several devices from Samsung, OnePlus, YU, Google Nexus, etc. The latest device to receive the Lineage OS 15.1 ROM is the OnePlus One.
Yes, you can now update OnePlus One to latest Android 8.1 Oreo. This is a big deal as the OnePlus One phones may never see Oxygen OS 5.0 Oreo update. Recently, we published an article reporting AOSP Android 8.1 Oreo build for the OnePlus One. Now, we are seeing Lineage OS 15.1 for OnePlus One. It has most of the things working including WiFi, RIL (network, data, etc.). It also features the latest December 2017 Security Patch.
As it is Lineage OS, of course, you get support for Substratum Theme engine by default. However, your Android device needs to be rooted. You can achieve that using the latest Magisk 15+. Being a custom ROM, it comes with a few Pixel 2 mods like audio, user interface, etc. Other than that, you get to see the Lineage OS 15.0 8.0 Oreo features as well developed for OnePlus One. The full update log is listed below.
The device will also receive the official Lineage nightly builds. The OnePlus One can be termed as the most developer friendly device as it has the best custom ROM builds. Today, we are seeing the first build of unofficial Lineage OS 15.1 for OnePlus One.
Update log for OnePlus One Lineage OS 15.1 8.1 Oreo ROM:
Android-8.1.0_r1
December Security Patch
Network Traffic Indicator
Brightness slider toggle
Auto Brightness toggle
Brightness control by sliding across the status bar
Quick Settings pull down with one finger
Extended Restart (long press on restart for advanced reboot)
Pixel 2XL 8.1 sounds
Substratum Support
Battery and notification Lights Settings
Increased in-call volume and media volume steps
Added Multirom Support
Some QS Tiles
Fixed V4A compatibility
Added theme related changes and Major updates to sepolicy
Other features from last 8.0 BETA
Download Lineage OS 15.1 based on 8.1 Oreo for OnePlus One
The manufacturer of OnePlus One may have abandoned the device, but the unofficial software support keeps on. Oxygen OS 5.0 for OnePlus One will never be deployed. However, with stunning custom ROMS such as Lineage OS 15.1, AOSP 8.0 Oreo, Lineage OS 15, Resurrection Remix 5.8.5, Paranoid Android, the OnePlus One keeps updated to latest firmware.
Download and update OnePlus One to unofficial Lineage OS 15.1 based on 8.1 Oreo.
Along with the ROM, you will need the latest Gapps for Android 8.1 Oreo. Moreover, if you are looking for rooting the Lineage OS 15.1, then the latest Magisk 15 is just the right thing for you.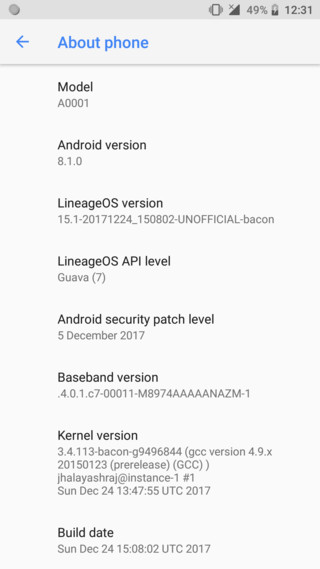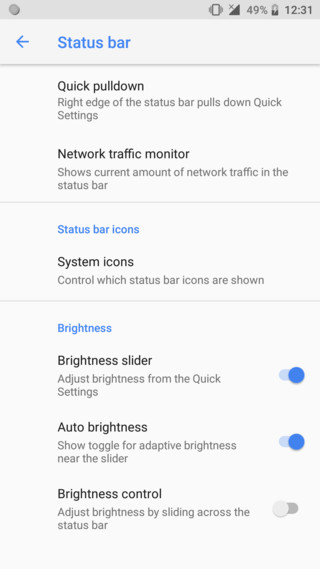 How to install Lineage OS 15.1 onto OnePlus One?
Make sure your OnePlus device has the Bootloader unlocked. Unlock Bootloader and rooting tutorial can be found in this tutorial.
Make sure OnePlus One is rooted and has the latest TWRP recovery installed.
Take a full back up of device data in case something happens.
Download the Lineage OS 15.1 8.1 Oreo ROM, GApps and Magisk 15.1 from the download section above.
Transfer the downloaded files from PC to your device.
Reboot to TWRP recovery.
Install the latest TWRP on your device if you haven't already.
Perform a full wipe i.e wipe out Cache, Dalvik cache, and system, data.
Now flash the 8.1 Oreo custom ROM for OnePlus One by selecting the install option.
Finally, flash the GApps and Magisk.
Reboot to system.
Enjoy the latest Android 8.1 Oreo update. Connect with us on our social media platforms. Source – Thanks to developer jhalayashraj. Image