Updated: The new iPad Air 2020 was just unveiled a few hours ago at the Apple Event 2020. Here are the latest iPad Air 2020 and iPad 2020 wallpapers for download in high resolution. These are the official stock wallpapers and not the leaked ones.
Original: Apple is about to launch three new products among several others, anytime this week. While the iPhone 12 series launch is imminent and expected to launch in October 2020, the new Apple iPad Air 4, iPad 2020, and Apple Watch 6 may possibly be revealed in an online only event as soon as September 8, 2020.
On a second series of leaks, Apple's iPad Air 4 case listings have been reported on Reddit by user "u/Kasti0". The listing reveals cases being marketed on Germany's Amazon website from manufacturers ZtotopCase and TiMOVO. The two cases are said to be for the "iPad Air 4 2020"; which may launch possibly in September 2020.
As for the specifications, the new Apple iPad Air 4 (2020) may come with a newer Bionic A13 processor; Apple's latest and greatest processor so far. The iPad Air 2020 will be fitted with an 11″ Liquid Retina Display or a 10.8" display panel. No reports on 120 Hz Pro Motion display though. Most importantly, the iPad Air 2020 will feature a design very similar to that of the iPad 2020 without the flash for camera and a smaller screen. It may also feature iPad Pro 2018 camera, 4GB LPDDR4X RAM, and USB-C.
Apple's second product that we may see this year is the new iPad 2020 (8th generation). It may feature the same design as previous iPad 7th gen with A12 SoC (found on the iPad Air 3) and a 10.2″ display or maybe 10.5" too.
Apple iPad Air 4 and iPad 2020 wallpapers are now available for download from the video above. Here we have listed high resolution wallpapers from the iPad Air 2020 in resolution of 5655 × 3939 and the original iPad 2020 wallpaper which is the same as the iPad OS 14 listed in our previous page with resolution of 3208 x 3208. We have a total of 8 high resolution wallpapers both in dark and light ones.
Download Apple iPad Air 2020 Wallpapers
Here are the new stock wallpapers from Apple iPad Air 2020 available in high resolution available for download. Note that these are from the leaked case listings above. Stay tuned for the official stock ones! It will be available as soon as the devices launch.
Here are a total of 8 high resolution wallpapers from the new Apple iPad Air 2020. Simply download the zip, transfer it to phone or tablet or PC, extract, and set as home screen or lock screen wallpaper.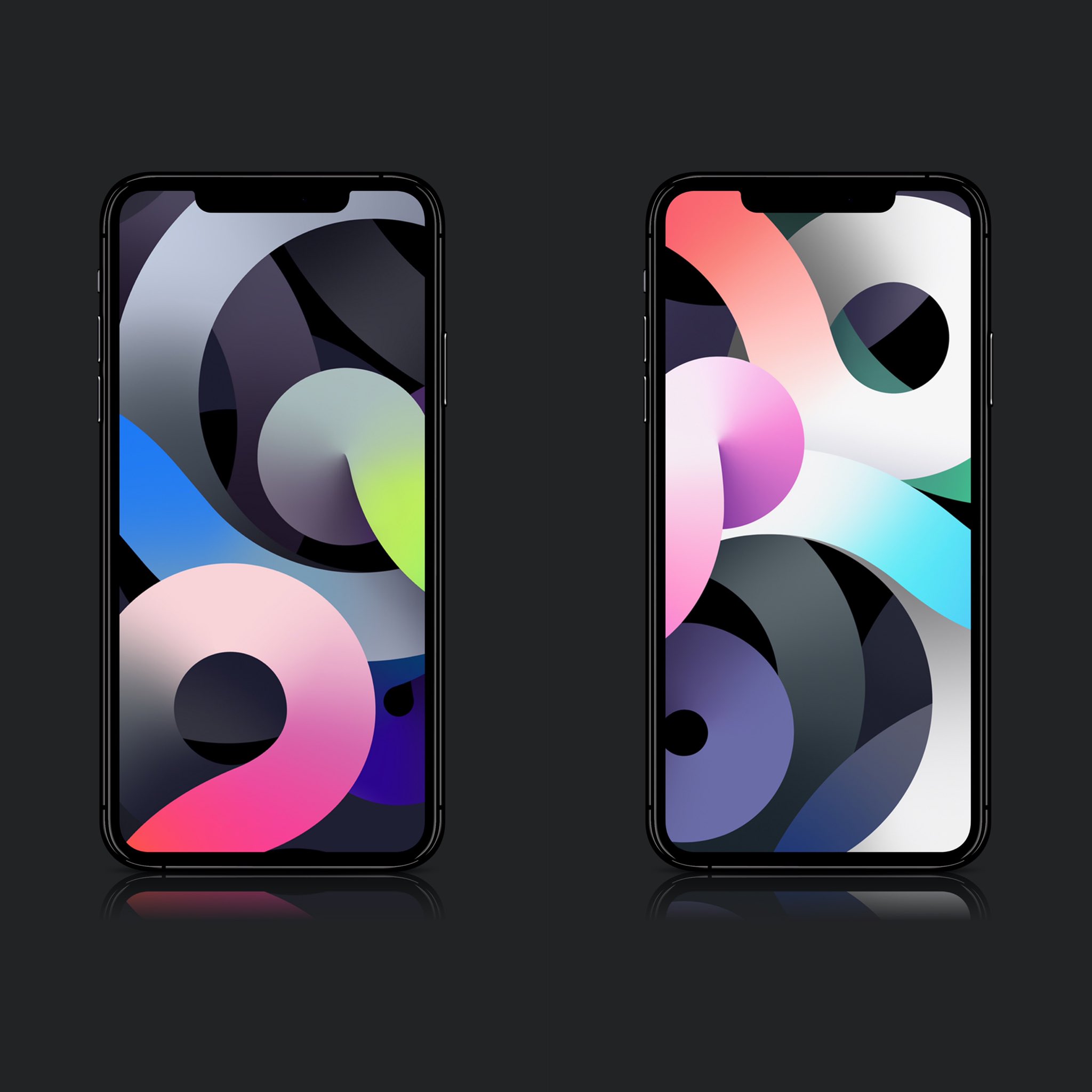 Downloads:
Updated: More iPad Air 2020 wallpapers optimized for iPhones and Android smartphones
Thanks to AR7 on Twitter:
Download Apple iPad 2020 Wallpapers
Here we will update the stock wallpapers from the original Apple iPad 2020 in high resolution. The iPad 2020 wallpaeprs are same as the iOS 14 wallpapers. The post link is listed below.
Downloads:
Download Apple Event wallpapers
Here are the stunning Apple Event 2020 wallpapers for download. Thanks to stunning wallpaper creator AR7, we now have the Apple Event 2020 wallpapers available for download for all iPhones, iPads, Macbooks, desktops, and Android devices.
Downloads
Here is the tweet by AR7: (download links)
Bonus: Apple Event Live wallpaper
Here, download the Apple Even live wallpaper for download.
More wallpapers: