TWRP recovery 3.2.0-0 is now rolling out with some stunning new features and support for a lot of Android devices. The new update brings support for Google Pixel 2 and Pixel 2 XL devices. According to the changelog, the TWRP 3.2 is focused on the stability for Android 8.0 Oreo based devices. Now that the official Oreo is out, we will see many Android 8.0 based custom ROMS like AOSP 8.0 ports, Lineage OS 15, Resurrection Remix 6.0, Paranoid Android 8.0, and much more. So the latest TWRP version will come in handy.
TWRP recovery v3.2+ now allows restoring ADB backups from within the TWRP GUI. TWRP has now fixed the corrupted data in backup files. The most important update comes to a better support for flashing Android 8.0 Oreo ROMS. There are various other Oreo related changes and stability improvements. You can check them out from below.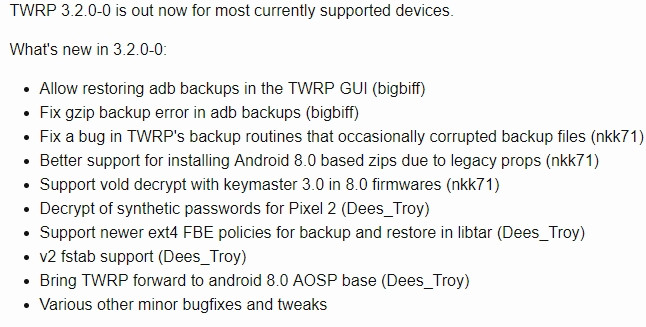 List of manufacturers TWRP recovery supports:
Installation tutorials for official TWRP 3.2+ on various Android phones:
How to install latest official TWRP on any Android device?
If you have Samsung device, then head over to this tutorial.
What's new in 3.2.0-0?

Allow restoring adb backups in the TWRP GUI (bigbiff)
Fix gzip backup error in adb backups (bigbiff)
Fix a bug in TWRP's backup routines that occasionally corrupted backup files (nkk71)
Better support for installing Android 8.0 based zips due to legacy props (nkk71)
Support vold decrypt with keymaster 3.0 in 8.0 firmwares (nkk71)
Decrypt of synthetic passwords for Pixel 2 (Dees_Troy)
Support newer ext4 FBE policies for backup and restore in libtar (Dees_Troy)
v2 fstab support (Dees_Troy)
Bring TWRP forward to android 8.0 AOSP base (Dees_Troy)
Various other minor bugfixes and tweaks