Earlier this year, Samsung released the most anticipated One UI 5.1 firmware update adding tons of camera features for various Galaxy devices. The Galaxy S23 series received yet another April 2023 security patch update yesterday featuring even more camera features, bug fixes, and optimizations. Here is the latest Camera Assistant update which supports the latest April 2023 update and brings some new functionality.
Samsung's April 2023 update added a new feature to the gallery app such that you can immediately delete photos that are being processed immediately after taking them with the camera.
For faster photo capture, the AF functionality has been changed such that when the user presses the capture button, a photo can be taken even without setting the focus. If you want to change this functionality, you can do so in the latest Camera Assistant app.
Visit – Camera Assistant > Prioritize focus over speed (focus priority) On.
Improved sharpness or flicker and added notice when shooting Ultrawide in low light. Also improved image stabilization when shooting with FHD60 after setting Auto FPS Off in rear video. The update also improved line-shaped banding noise in the sky in mid to low light conditions.
The latest Camera Assistant APK v1.1.01.0 added a function to prioritize focus over speed. It also supports auto lens switching. However, Auto lens switching only works on S21/S20/Note20/Fold4/Fold3. The update also now supports One UI 5.1 April 2023 update on S23, S22, S21, S20, Fold4, Flip4, and more.
What's new with latest Camera Assistant v1.1.01.0?
- Support version : One UI 5.1 or higher
- Support model : S23/S22/S21/S20/Note20/Fold4/Flip4/Fold3/Flip3/Fold2/Flip


 - Add Prioritize focus over speed [S23]
 - Support Auto lens switching [S21/S20/Note20/Fold4/Fold3]
  (Need software update after April) 
Samsung also introduces some stunnig camera features like Expert Raw integration directly into Samsung Camera app.
Samsung's new Good Lock module called the Camera Assistant unlocks many camera features.
It provides users with additional options like Auto HDR, picture softening, video recording in Photo mode, adjust capture speed, quick tap shutter, clean preview on HDMI displays, timer multi-photo options, camera timeout, dim screen while recording and more.
The latest Camera Assistant features the following:
Support new features on Samsung Galaxy S23, S22, S21, S20, Fold 4, Flip 4 runing the latest ONE UI 5.1 firmware.
Add Picture softening step
-OFF / 50 (addition) / 100
Add Capture Speed Step
-Speed priority, picture quality precondition
Timer multi-photo options
-In addition of shooting intervals (currently 1.5 seconds fixed) settings
Dim screen while recording
-The function to set the screen dark when shooting video
Quick tap shutter

Take pictures as soon as your finger touches the Shutter button instead of when you lift it off. You can still swipe or press and hold the Shutter button to capture GIFs, burst shots, and videos, but a picture will be taken too.

The description text has been modified.
A color palette icon has been applied.
While we also have the stunning Expert Raw app with advanced camera features, it is only available for select Ultra-series Samsung galaxy devices. You may also try Google Camera for Samsung.
Camera Assistant App Features and Changelog
The Camera Assistant app comes with the following features:
Auto HDR

Capture more details in the bright and dark areas of your pictures and videos.
HDR, which was automatically applied from One UI 4.1, can be used by setting On/Off in the Camera Assistant app.
When HDR is turned on, saturated bright areas are well expressed in backlight conditions by synthesizing multiple photos.
If you want to get a photo with a slightly brighter background, try turning HDR off.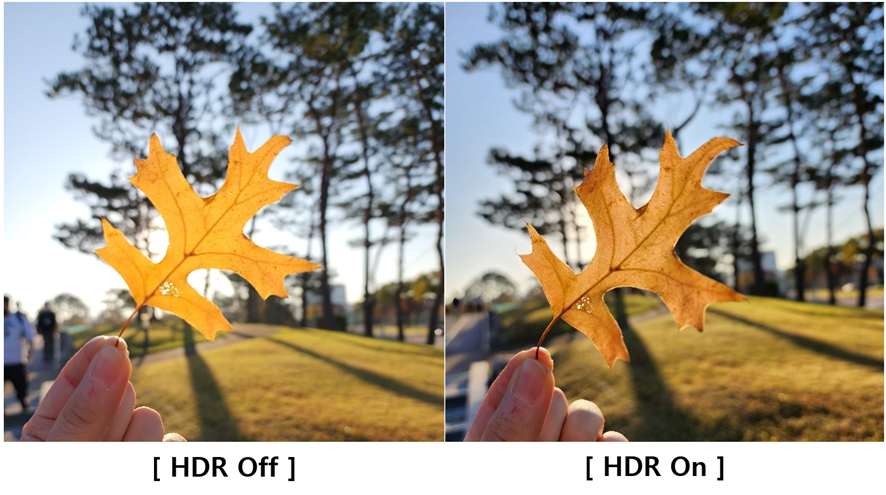 Picture softening

Smooth out sharp edges and textures in Photo mode pictures.
You can use the Camera Assistant app to select the texture of your photos.
Turn on the option when you want soft photo skin expression and soft hair expression, and turn it off when you want detailed and vivid textured photos.
This function is only applied to photo mode and portrait mode.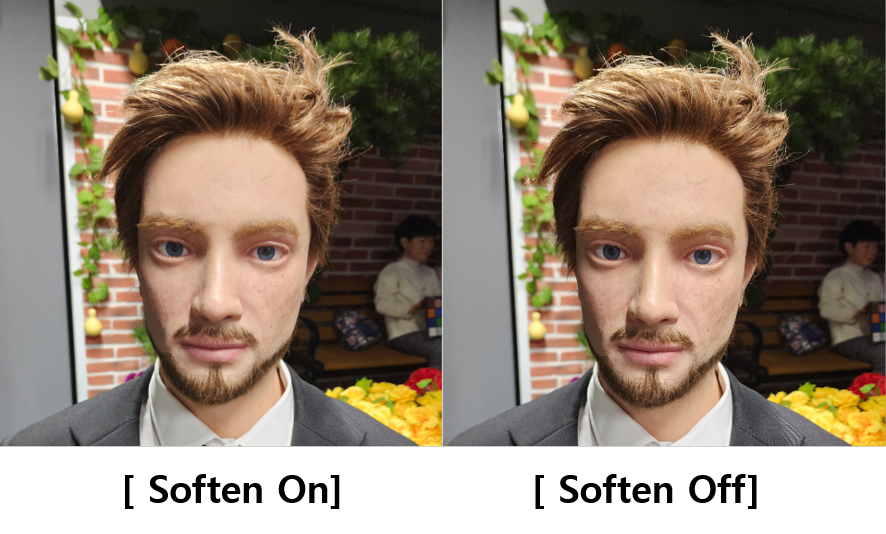 Auto lens switching (Support : S23, S22, Fold4)

Let the camera pick the best lens based on the zoom, lighting, and distance to the subject.
Camera Assistant app can automatically switch camera lenses according to the ambient brightness and distance of the object.
The options include:
– ON: At 3x magnification or higher, it automatically switches to a wide-angle lens when illuminating a dark or close-up object, allowing digital zoom to achieve well-focused and bright shots.
– Off: Even when shooting in low-light environments or close objects at a magnification of 3x or higher, clear optical zoom photography is possible with a telephoto lens without changing the lens.
( However, the focus may be out of focus or the result may be slightly dark )
Video recording in Photo mode

Touch and hold the Shutter button to record videos in Photo mode.
In photo mode, you can turn on/off the Quick Take function to record a movie by long pressing the record button.
If you have experienced the inconvenience of recording a video when you accidentally press and hold the shutter button while trying to take a picture, try turning off the menu .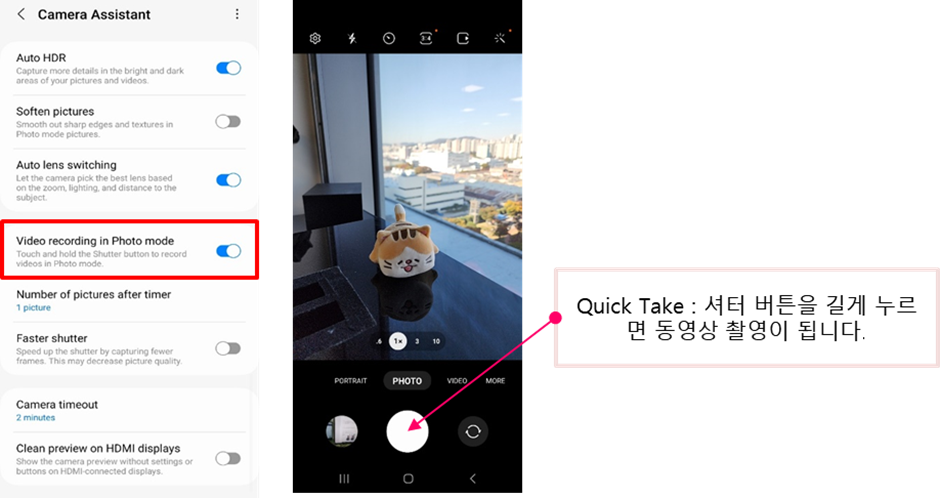 Quick tap shutter

Take pictures as soon as your finger touches the Shutter button instead of when you lift it off. You can still swipe or press and hold the Shutter button to capture GIFs, burst shots, and videos, but a picture will be taken too.
When setting the timer by setting the number of shots (1, 3, 5, 7 ), you can more conveniently take continuous pictures from a distance without pressing the shutter button.
Use this when you want to take a set of pictures in succession without pressing the shutter button. You might accidentally get a shot of your life.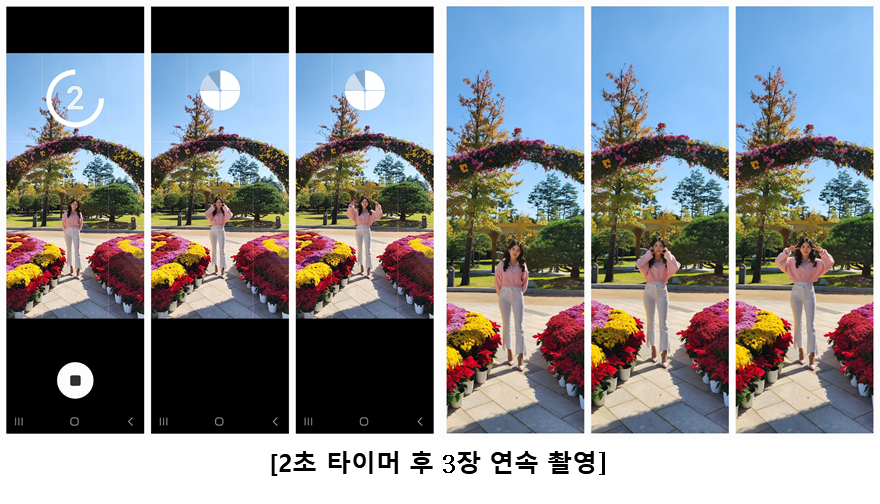 Capture speed

Prioritize quality for the best pictures. Prioritize speed to capture pictures as fast as possible. Balance speed and quality for faster capturing without sacrificing too much quality.
This can be selected when you want to take a series of quick shots in the Camera Assistant app. Each time you press the button, you can experience a series of pictures at super-fast speed. Right now, we are only offering photo mode wide-angle lenses, but next year we are working hard to make sure that all lenses can take fast shots. When you want to capture the fast movement of your beloved dog or cat, try using the Faster shutter to shoot.

Camera timeout
When the camera is turned on, it will turn off automatically after 2 minutes of inactivity. Use it when you travel and there are many places you want to take pictures, when you shoot your favorite singer at a concert, or when you want to keep the camera app on for a long time.
In the Camera Assistant app, you can adjust the length of time the camera app stays for your convenience. (1, 2, 5, 10 minutes )
Clean preview on HDMI displays

Show the camera preview without settings or buttons on HDMI-connected displays.
When the device is connected to an external display via HDMI, this function allows only the pure preview screen, excluding the UI of the camera app, to be output via HDMI.
When using the multi-view function of Samsung TV when shooting live broadcasts or home training videos, or if monitoring on a large screen is required, a pure preview screen without UI would be good.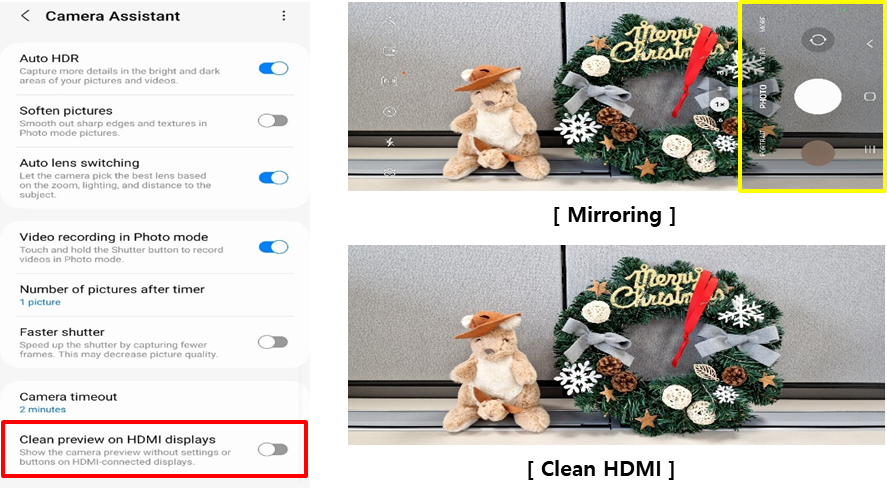 The following features are also available:
Timer multi-photo options
Camera timeout
Dim screen while recording
Latest Camera Assistant APK Download
Samsung's Camera Assistant app is only available in South Korea available just yet. way of accessing the uncompressed data of an image (called RAW), straight from the camera sensor.
Note that this is a Good Lock plugin. So first download and launch Good Lock from here.
Download from Samsung Galaxy Store
So how can you install Camera Assistant app?
You can install it by searching for Good Lock or the Galaxy Store app.
After installation, click the App icon or access it through Good Lock, or after running Camera, it can be operated with the shortcut function created in the Camera settings.