Nothing Tech just recently launched their second generation smartphone named Phone 2. Ever since the launch, the phone is being showered with major software updates featuring camera improvements, firmware optimizations, and general bug fixes. Today, the firm released second major software update for the Nothing Phone 2 with build Nothing OS 2.0.2.
The Phone 2 launched with Nothing OS 2.0 featuring Android 13 out of the box. It will soon receive Android 14 firmware later this month. Meanwhile, the firm is fixing bugs following user feedback and also making their new smartphone more desirable with each update.
Nothing OS 2.0.2 added new features like shutting down apps when the device temperature crosses the threshold. It also updated the device with July 2023 security patch.
The update also brought huge camera improvements including photos in low-light environments, photo clarity in 50 MP Mode, photo clarity for front camera, and much more.
Most importantly, the update improved touchscreen sensitivity and haptic feedback strength.
The previous Nothing OS 2.0.1 also added new features to the camera like 2x zoom support in portrait mode, optimized HDR, lag reduction when shooting videos, and more. The Glyph composer is now officially available on the Play Store. Checkout the full changelog below.
Nothing OS 2.0.2 Patch Notes
What's new

Implemented a new feature to shut down apps when the device reaches temperature limit
Refined the out-of-battery visual when device is switched off
Volume control will now display the different icons for each of the Nothing audio products
Updated to Google's July Security Patch

Camera

Improved photo quality in low light settings
Improved photo clarity in 50 MP Mode
Improved photo clarity for front camera
Optimised stability and contrast when recording videos with rear camera
Improved the contrast and Bokeh effect when shooting in Portrait Mode on the rear camera Optimised the clarity of faces when shooting in Portrait Mode with rear camera
Improved
HDR processing speed
Improvements Reworked haptic feedback strength when typing
Improved responsiveness of the touch panel under certain conditions
Improved network reliability with multiple carriers globally
Optimised performance for certain games Improved system stability

Bug fixes

Resolved an issue affecting Google Wallet functioning in cloned apps
Resolved an issue causing 'double tap to wake' to be unresponsive at times
Resolved an issue causing the Bluetooth Quick Settings tile to be unresponsive
Resolved a rare issue causing System UI to be unresponsive at times
Other general bug fixes

Update size: 98.34 MB
Previous Nothing OS 2.0.1 update changelog
Download Nothing OS 2.0.2 OTA Update
Here are the OTA update zips for the latest Nothing OS 2.0.2 stable (Android 14) available for download directly from the manufacturer's servers.
Note: The EEA & Global variants have the same firmware now as they have been unified! This is great news as you only need a single file. Codenames – Pong (Global A065) – PongEEA (Europe A065) – PongIND (India AIN065)
Nothing OS 2.0.1 – 2307092003
Nothing OS 2.0.1A – 2307191458
Nothing OS 2.0.2 – 2308011740
How to Install Nothing OS 2.0 onto Nothing Phone 2?
You can Nothing Phone by installing Nothing OS OTA update zips manually via ADB sideload method or recovery method. See the tutorial on How to install OTA updates on any Android device?
Install OTA using Local Upgrade method
Create a folder named "ota" (without the quotes) at the root of the internal storage. Meaning outside every folder.
Copy the OTA update ZIP file from above to that folder.
Open the phone app and Dial *#*#682#*#*
This should launch an offline update tool.
The tool will scan for an OTA file from internal storage and install it.
If that fails, you can manually browse for the OTA package.
After selecting the OTA file, the wizard will apply the update.
Reboot the device and you are on the latest firmware.
Note: If the dialer doesn't work in your region,
You can also use the Activity Launcher app or QuickShortcutMaker to locate and execute the "OfflineOTAUpgrade" tool.
The package name you should be looking for is com.nothing.OfflineOTAUpgradeApp.
Troubleshooting Error Code 2
Note: If you receive Error Code 2 while installation like this: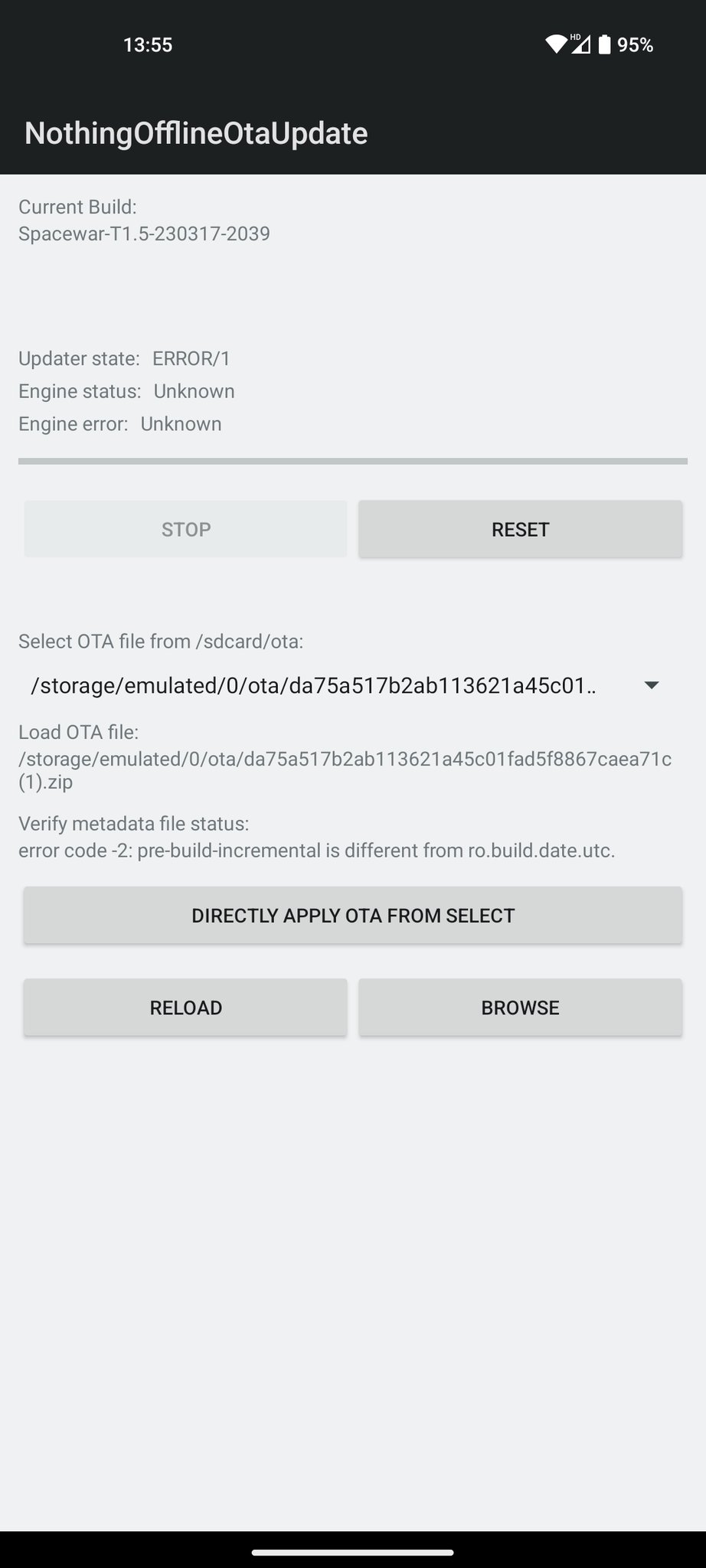 Set the time zone to Cina, Shangai to use the offline updater or local upgrade.
Go to settings > Search Date & Time > untick automatic hours > Set timezone to Region China / Shangai.
Retry installation. Thanks to M1Κ4_3L.