Update: Samsung Galaxy Note 8 is now receiving the latest April 2018 Android Security Patch still based o Android 8.0 Oreo with firmware build number N950FXXU3CRD7 and Baseband version being the same. Following the Snapdragon Note 8 SM-N950U variant, the international variant of Note 8 SM-N950F is now receiving the stable Android 8.0 Oreo OTA update. It comes with a firmware build number N950FXXU3CRC1 and features the Baseband N950FXXU3CRB9. This is great news as Note 8 becomes the third device to receive the latest stable Oreo OTA update following the Galaxy S8 and S9+. So download the official Android 8.0 Oreo firmware update for the Note 8 SM-N950F and install it using the latest Odin tool.
The new CRC1 update is based on the latest Samsung Experience 9.0 as against the previous SE 8.5 based on 7.1.1 Nougat. The OTA is currently rolling out in European countries like France and also in South American countries Chile and Brazil. It features the latest March 2018 Android Security Patch. So download and install the latest Oreo update before anyone else.

Samsung Galaxy Note 8 Oreo changelog:
The new update for Galaxy Note 8 features the latest April 2018 Android security patch with build N950FXXU3CRD7. The following screenshots feature the complete changelog or update log for the Galaxy Note 8 Android 8.0 Oreo OTA update.
Firmware information:
| | |
| --- | --- |
| Samsung Model | SM-N950F |
| Device name | Galaxy Note8 |
| Region of update | |
| Version | Android 8.0.0 |
| Changelist | 13094739 |
| Build date | Wed, 01 Jun |
| Security Patch Level | 2018-04-01 |
| Product or CSC code | MID |
| Firmware PDA | N950FXXU3CRD7 |
| Firmware CSC | N950FOXM3CRD7 |
Download Note 8 SM-N950F Oreo Odin stock firmware file
You can download the full stock firmware for Samsung devices using the SamFirm tool. It will let you download firmware updates directly from Samsung servers. This includes without restriction.
You can either wait for OTA update: See how to capture OTA update?
Downloading Odin stock firmware for Note 8
Download and extract SamFirm tool to PC.
Find out the model number for your device under Settings > About Phone > Software information.
Find out the CSC code or Product code for your specific region.
Run the SamFirm tool and input the model number and CSC code.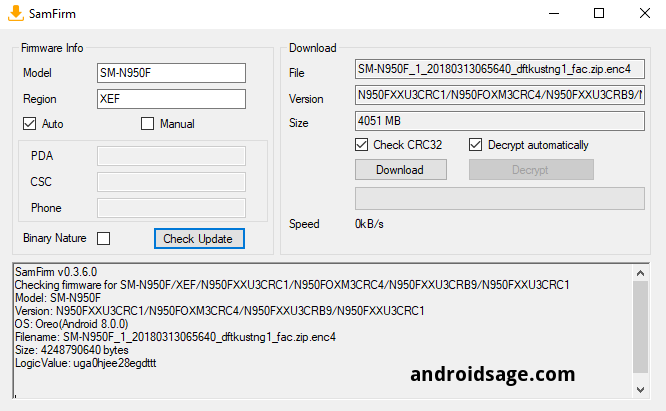 Download the latest stock firmware for Samsung Galaxy Note 8.
Now, head over to this tutorial for installation: How to restore Note 8?
Read: How to root Samsung Galaxy Note 8?
You can directly flash the french XEF Oreo firmware on your Note 8 or change your Note 8's CSC to XEF and capture the OTA.
How to update Note 8 to April 2018 Security Patch Oreo?
In this tutorial, we will show you how to install the above French Oreo firmware onto any Note 8 global variant with model number SM-N950F. With a little tweak, we will force update the Note 8 to Oreo. This is safe and has been tested by some users.
Note that following this needs a factory reset. Also, note that this will change your device CSC to XEF (French firmware) which will help get you the Oreo OTA update.
Download links:
Step 1: Factory Reset your Note 8 by rebooting into the stock recovery. Turn off and then press and hold volume up/down + power button + Bixby button.
Step 2: Now reboot your Note 8 into Download Mode. (Vol up, Bixby button, and Power) and flash the XEF Firmware including CSC. NOT the Home CSC! See the screenshots below.
Step 3: Start the firmware flashing via Odin. See how to flash Samsung Galaxy stock firmware using Odin.
Step 4: Now remove the Sim card and/or SD Card and do the initial setup without Wifi or network data.
Step 5: Again reboot into stock recovery and Factory Reset your Note 8 device.
Step 6: It is time to flash the Combo firmware file as AP. Use the Home CSC from the French Firmware (file 1). Use the Odin Combo version (MOD) from the download above. See the below screenshots.
Step 7: Flash the firmware using the same method of Odin.
Step 8: Once the installation completes, reboot device to the system.
Step 9: Once your Note 8 boots into the Combo FW go to IME and type: *#243203855#.
Step 10: Change CSC to XEF and then reboot the phone. Now you are in XFE firmware. You can check settings.
Step 11: Turn off the Note 8 and reboot it into Download Mode again. Flash the XEF Firmware and use the CSC using Odin. Not CSC Home!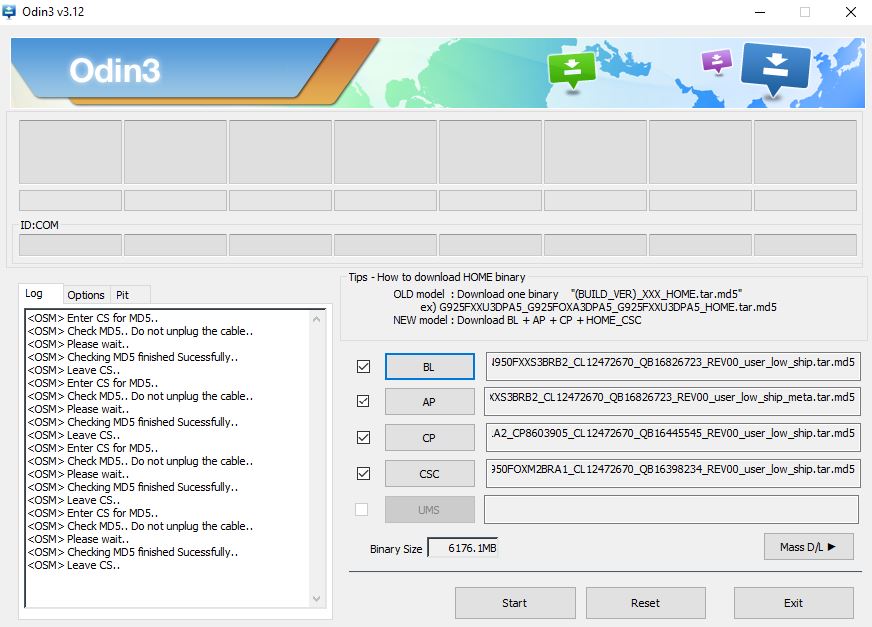 Step 12: Upon flashing you can connect to WiFi and go check for Oreo OTA update.