Samsung Galaxy S7 and the S7 Edge are some of the hottest devices amongst Android enthusiasts due to its stunning specifications and the new features that feature in the manufacturer's latest TouchWiz UI. Now with the launch of these devices, the stock firmware files are also available for all of its variants. This tutorial will help you restore any or all the changes you have made to the system and also revert it back to stock or factory images. This will perform a clean full firmware installation. That means you will lose all your data, app, media etc. Hence, it's better to backup before you proceed.
[Update March 17, 2017: The post has been updated to install the Android 7.0 Nougat stock firmware onto Samsung Galaxy S7 SM-G930F/FD and S7 Edge SM-G935F/FD.]
This guide will also help you unbrick your Samsung Galaxy S7 device if the Download/Odin Mode is accessible on your Galaxy device. This is a usual Odin flash method common to almost all Samsung Galaxy devices. All you need to do is download the proper firmware file for your Galaxy device and flash it using Odin for PC. Yes, you will need to connect your device to your PC running Odin. This is not an official process, though, but it is a common practice among Samsung users who like to tinker with their Android device. Full stock firmware downloads for Samsung Galaxy S7 and S7 Edge SM-G930F, G930T, G935F, G930W8, SM-G930FD, SM-G935F, SM-G935FD, SM-G935W8, SM-G935T. etc. and all the Korean variants for the same are now available. We will be updating this post as more files are available.
Downloads S7 Firmware Files
Before you proceed to the download section, you can either download the firmware directly from Samsung with a new tool without any speed restrictions or subscription from the first link or get it from third party websites from link 2.
Tool to Download Official Samsung Galaxy S7 Stock Firmware
→ Download | [Faster download method with no speed limit]
Samsung Galaxy S7 (Edge) Stock Android 7.0 Nougat and Marshmallow
Samsung Galaxy S7 Edge Android 7.0 Nougat and Marshmallow
Galaxy S7 (Edge) Korean Variants [Download via Samsung tool]

Samsung Galaxy S7 SM-G930S → Download
Samsung Galaxy S7 SM-G930K → Download
Samsung Galaxy S7 SM-G930L → Download
Samsung Galaxy S7 Edge SM-G935S → Download
Samsung Galaxy S7 Edge SM-G935K → Download
Samsung Galaxy S7 Edge SM-G935L → Download

Tools Required to Restore Galaxy S7 to Stock

Odin Software → Latest Odin | Mirror | File: Odin3_v3.12.3.zip
Samsung Galaxy Drivers → Download | File: SAMSUNG_USB_Driver_for_Mobile_Phones.zip (15.3MB)
Warning: Although going through this procedure should not cause harm or any damage to your device, it remains an unofficial process and you should be cautious about it. Reader's discretion is advised.
Prerequisites
1. Verify your device for compatibility. Check out the download section.
2. Enable USB Debugging on your device. To do so, go to Settings>About Phone> Tap on the Build Number several times until you get a new Developer Options in the Settings. Open Developer Options and enable USB Debugging from there. Trust the connection by allowing it when you connect it to your PC for the first time.
3. Make sure you have latest device drivers setup on your PC for a better connection. Get it from the download section official from the manufacturer.
4. Backup everything before you proceed. Odin performs a clean install, that you will lose apps, data, media, etc.
How to Restore to Stock Samsung Galaxy S7 and S7 Edge Full Firmware
Step 1: Download the listed firmware for your for your Galaxy device. Extract the zip file to get the firmware with .tar or .tar.md5 extension and place at a location where you can easily locate it in your PC. 
Step 2: Now boot your device into Download/Odin Mode. To do so, turn off your device completely and then press and hold Power button + Volume Down + Home keys for a few seconds. If you see a warning sign press Volume up/ Volume down to get the Odin screen.
Step 3: If you already have Odin software on your PC then simply run the Odin3_3.10.7.exe file. If not, then download the Odin3.zip file from the download section and extract it. Run Odin software as administrator.
Step 4: While your device is still in the Odin Mode, connect your device to your PC using a USB cable.
Step 5: After a successful connection, the ID: COM in the Odin should turn Blue and an Added!! message should be displayed in the Log tab. In case your device doesn't show up in Odin, then you can troubleshoot it with the steps given at the end of the tutorial.
Step 6: Now click on AP button and add the firmware file by navigating to the file path. Once added, it should show like this — File Path\G930FXXU1APAW_G930FXSA1APAW_XSA.tar.md5
Step 7: Take care that only Auto Reboot and F.Reset Time are selected in the Options tab. Do not check Re-Partition.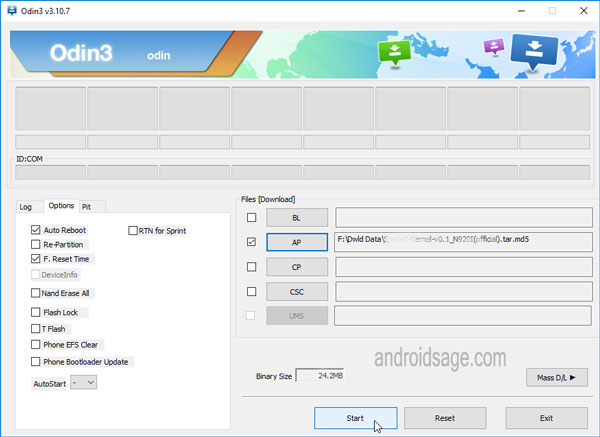 Step 8: Once done, verify everything and proceed with installation by selecting Start button. If it's a 4 file firmware, then take a look at the following image: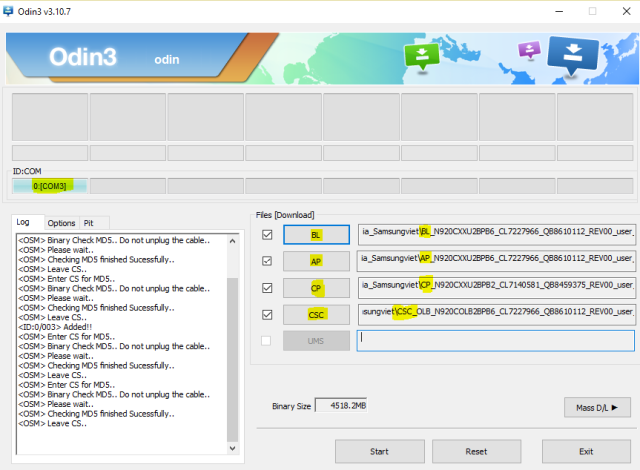 Step 9: When you get a PASS! message in the Log tab on your Odin software, that means firmware has successfully been installed and the device will restart itself. If not then reboot manually.
When  you see the boot animation, you can enjoy your new firmware. Be patient as first boot may take a while. However, if the system doesn't boot up for a long time, then go through the following.
How to Fix Bootloop on Samsung Galaxy Device?
If you come across boot loop or your Samsung Galaxy device is stuck at the boot logo then factory reset your device from the recovery. To do so, turn off your device (also remove the battery if applicable and put it back again) and reboot into recovery mode by press and holding Power + Volume down + Home keys for a few seconds. From the Recovery, select Wipe Data / Factory Reset. Confirm the action and reboot once done. Your device should now boot up.
How to Troubleshoot Connectivity problem on Samsung Galaxy Device?
If your device doesn't show up in the Odin software, then turn off USB Debugging and turn it on again and Reboot. You can also reinstall the Samsung USB Drivers or try changing the USB cable and connection ports from device manager.
Download Samsung Galaxy S7 and S7 Edge stock full firmware for SM-G930F, G930T, G935F, G930W8, SM-G930FD, SM-G935F, SM-G935FD, SM-G935W8, SM-G935T.  Also, see how to install Android 6.0.1 Marshmallow on Samsung S7 and S7 Edge.