Samsung recently unveiled "One UI 5 Watch" OS – their next-gen software upgrade for wearable devices including the popular Galaxy Watch 4 and Watch 5. Shortly after, the firm opened the One UI Watch 5 Beta Program for the two devices in the United States. today, Samsung released the second One UI 5 Watch Beta for Galaxy Watch 4 (LTE) (Bluetooth), Watch 4 Classic, Watch 5, and Watch 5 Pro with new features, bug fixes, and stability improvements.
The second beta is a minor update with build ZWFA featuring some critical bug fixes related to performance, battery drain, lag, and more. Samsung fixed the lag and sluggishness immediately after reboot. Also fixed the Samsung Pay can't be used for a while after updating OS.
Most importantly, the second beta fixed the issue of fast battery consumption or drain. Added "Watch4 bicycle riding exercise" in the items of "Auto Excercise Recognition."
Samsung Galaxy Watch 4 and 5 users in the United States can now download the second One UI 5 Watch OS beta on their watches by signing up for the beta program. The Samsung Members app will show you the notice about the latest update. The beta program is now available in the United States right now and coming to India, EU (Europe), Australia, and Canada later this week.
What's new in One UI 5 Watch Upgrade?
The most important thing is One UI Watch 5 OS is based on Android 13. This is a direct jump from Android 11 to 13, skipping the 12. You will also see Google Wear OS 4 features in the upcoming updates.
As for what's new, Samsung is focusing on 3 key features in the latest One UI Watch 5 update, those are – sleep management, fitness features, and user safety.
Plus, the beta also brings the most anticipated Backup and Restore functionality! We may also see the new Watch Face Studio from Wear OS 4 in collaboration with Google and Samsung to bring new ways to design Watch Faces. Checkout the full changelog below.
In Samsung's blog post (Korean language), the firm details all new changes.
Sleep Management Features
Samsung Electronics has emphasized understanding individual sleep patterns, forming healthy habits, and creating an optimized sleep environment for better sleep quality.
With One UI 5 Watch, users can now check various tips for sound sleep provided through existing Galaxy smartphones on the Galaxy Watch. For example, the device suggests avoiding caffeine intake six hours before bedtime and sun exposure in the morning.
The Sleep Insight UI places the user's sleep score at the top of the screen to show the previous night's sleep time and quality at a glance.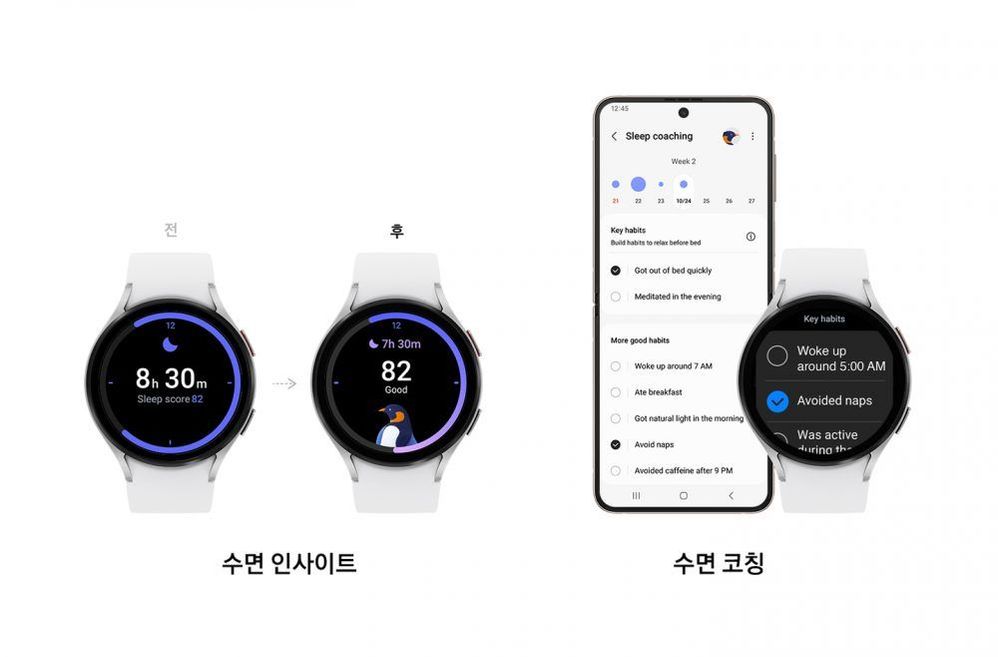 Personalized Fitness Features
One UI 5 Watch provides a personalized exercise guide based on the user's heart rate zone.
The user can measure individual cardiorespiratory capacity with the Galaxy Watch, and when the user runs for ten minutes, maximum oxygen intake and personalized heart rate intervals based on aerobic and anaerobic thresholds are set.
Based on the user's individual cardiorespiratory capacity measured this way, the Galaxy Watch provides a personalized heart rate zone from Zone 1 to Zone 5.
With this information, the user can exercise by selecting a heart rate zone suitable for their purpose. While the user selects section 2 and is exercising, a notification is provided when the heart rate is out of the corresponding section, such as section 1 with a slower heart rate or section 3 with a faster heart rate.
Moreover, the GPX (GPS Exchange Format) route guidance function available on the 'Galaxy Watch 5 Pro' now has running and walking features added to existing exercise types such as hiking and cycling, allowing users to more conveniently check their location while exercising.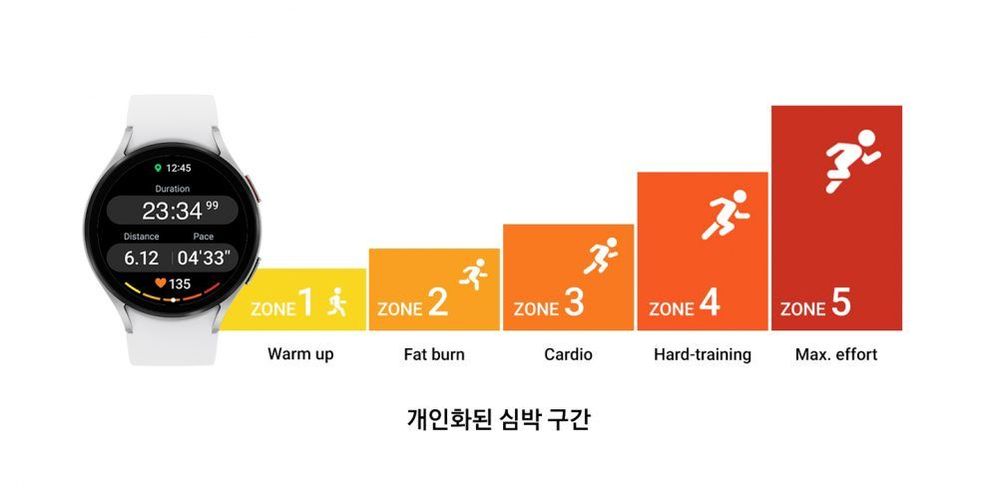 Enhanced Safety Features
The emergency SOS function has been improved in One UI 5 Watch.
When an emergency situation occurs and the user presses the home button of the Galaxy Watch five times in a row, the device connects to an emergency number such as 119 and determines whether or not to connect the call.
When a rescue request is made with an emergency number based in each country, a button for direct access to the user's medical information is provided on the Galaxy Watch screen. To provide information, users must register their own medical information in advance.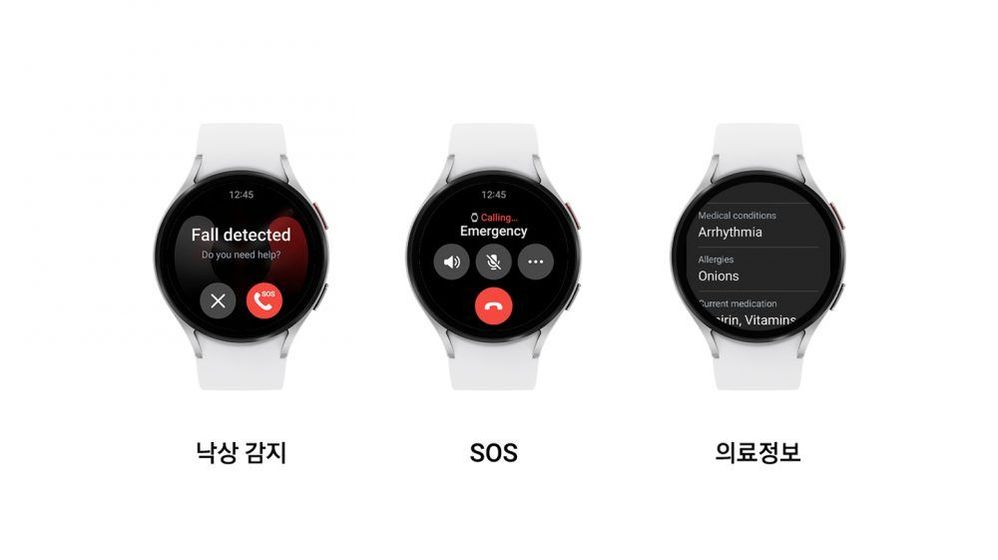 One UI 5 Watch OS Beta 2 Full Changelog and Features
Major changes and improvements

A early sluggish issue after "Power On" is improved partially – Fixed a issue "Samsung Pay" can't use for a while after OS updating
Fixed the issue of fast battery consumption
Added "Watch4 bicycle riding excercise" in the items of "Auto Excercise Recognition"
In addition, applied a number of improvements

Software update information

Version: R870XXU1ZWF4/R8700XM1ZWF4
Size: 188.72 MB
Security patch level: June 1, 2023
Here is the full image for the changelog.
One UI Watch 5 beta 1 update
Watch faces and tiles
Add watch faces and tiles more easily

A new vertical layout makes it easier to find the watch faces and tiles that are right for you.

Improved Buds controller tile

You can now turn 360 audio on and off from the Buds controller tile if your Buds support 360 audio.

Quick access to timers

You can start timers from the new
Timer tile without opening the Timer app.
Set an album or story as your watch face

Instead of just one picture, you can now make your watch face cycle between pictures in an album or story that you select. Your watch face will change to a different picture each time you turn on the watch screen.
Samsung Health
Automatically record cycling workouts – Samsung Health can now detect when you start cycling and record your workout automatically. You can also set whether to automatically map your cycling routes.
Get heart rate guidance during running workouts

Your watch can provide personalized heart rate zones while you run to help you manage your exercise intensity.
Backup and restore
Keep your watch data safe

Files and data from your watch are periodically backed up to your phone when it's connected to your watch. You can also save backups to Samsung

Cloud. Your phone needs the latest version of the Smart Switch app to use this feature.
Control your phone
More call controls

You now have more control over calls without touching your phone. You can adjust the call volume, mute sound, and press buttons on the keypad, all from your watch.
Additional changes
Dictate text with the Home button

Just press and hold the Home button any time you're entering text with Samsung Keyboard to instantly switch to voice input.

Use multiple timers at once

You can now have up to 20 timers running at the same time to help keep track of all your tasks.

Share your medical info in an emergency

A button to access your medical info will appear automatically when a hard fall is detected or when you press the Home button 5 times to start the
Emergency SOS feature.
Device care

Check the status of your watch's battery, storage, and memory and immediately fix any problems to extend battery life and keep your watch running smoothly.

Control your watch without touching it

Universal gestures let you control your watch without touching the screen or pressing a button. You can assign various actions to gestures such as shaking your wrist, making a fist, or pinching your fingers.

Organize apps in folders

Create folders to keep your apps organized so you can find the apps you need quickly with less scrolling.
Software update information

R890XXU1ZWF1/R8900XM1ZWF1/ Size: 1690.75 MB
Security patch level: June 1, 2023
How to download One UI Watch 5 Beta on Galaxy Watch 4 and Watch 5?
One UI Watch 5.0 update will be available for download on the Galaxy Watch 4 (Bluetooth) (LTE) (Classic) and Galaxy Watch 5 and 5 Pro via One UI 5.0 watch beta program. So stay tuned.
Download or update the latest Samsung members app update from Play Store. Or download it from our Telegram Channel.
Launch the members app.
Sign in using your Samsung Account associated with your Galaxy Watch.
Head over to the notice section and you should see a new One UI Beta Program link.
Tap the notice and fill in the details.
Once registered, you can visit settings > system updates > download OTA updates to check for any updates.
Downloads will appear only when the One UI Watch Beta program is live.
Join our Telegram Channel for more updates.