Update: Android P Beta 2 Launcher, Stock Wallpapers, and Ringtones are now available for download. Google started rolling out the next version of its Android operating system. Though it is a developer preview build, the Android P Beta 2 brings a lot to the plate. It consists of many new features and tweaks to the user interface. You will find updated Launcher settings, brought a new Home Button, swipe gestures for recent app, closing app, and much more. The Pixel 2 Launcher has been extracted from the latest build of Android P. So download and install the latest Rootless Pixel Launcher Q-4753642 from below.
Android P Developer Preview 2 is now available for download as factory images and OTA updates for about 11 smartphones. This includes Android devices from Google, Essential Phone, OnePlus, Sony, Xiaomi, OPPO, Vivo, etc. Although Android P features Adaptive Battery, Adaptive Brightness, App Actions, Slice, they are not a part of the new Pixel 2 Launcher listed here. So simply installing the new launcher does not mean full Android P functionalities. For that, you can wither get an eligible device, flash a custom ROM via Project Treble, or use Android P-ify's latest APK.
Regardless, the Rootless Pixel Launcher vQ-4753642 consists of all latest Android P design and user interface. The latest launcher consists of a new and improved design, stability, fixed bugs, and brings a lot of features.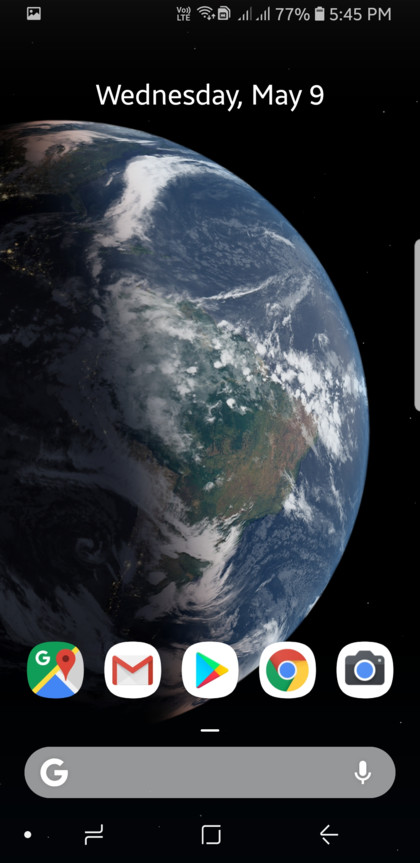 The above image features the new Pixel 2 Launcher with new Android 9.0 P Beta 2 design. If you look closely, you will see that the dashboard has been removed and added a new Home Button.
The features of the new Pixel 2 Launcher based on Android Beta 2 are:
Removed dock and replaced with Google Search Widget.
Added new Home Button.
Enable Google now and Weather by default. Does not require installing as a system app.
Enabled Notification Badges for Android Marshmallow & Nougat or later.
Added swipe down or pull down to open notifications drawer.
Fixed blue folders on Xperia devices.
Changed accent color to Pixel blue.
Added circle icon shape for Nexus on Oreo.
Force circle icons option.
Force colored Google logo option.
Dark Theme enabled.
Dark Text theme enabled.
Hide Apps.
Download Rootless Pixel 2 Launcher based on Android 9.0 P Beta 2
If you are coming from the previous Rootless Pixel 2 Launcher based on Android P DP1, we posted earlier, then you will have to uninstall it first and then install the new launcher APK.
So download and install the latest Android 9.0 P Launcher on your device right now. The new Pixel Launcher can be installed on most of the Android device. As it is a port, it will install on devices running Android 5.0 Lollipop, or later such as Oreo and Nougat. Install it as normal APK.
There are currently 2 versions available. One is the non-modded Pixel Launcher APK and the other is modded. If the first does not work, then install the modded one.
Modded Rootless Pixel Launcher:
You may also like some stable builds:
You may also like Rootless Pixel Launcher 3.4+. Like us on social media for more such updates.
Download Android P Beta 2 Wallpapers QHD
Update: More Android P Beta 2 stock wallpapers are now available for download. Currently, there are a total of 18+1 wallpapers in Android P. You can get more with the Live Earth Wallpapers from Google listed below.
You may also like the Google Live Earth wallpaper or visit this post.
Download Android P ringtones, notification tones, and alarm tone
Here is a set of all the ringtones, notification tones, message tones, alarm tones, etc. from the latest Android version. There are a total of 39 sound files in the package below.