Google just announced Android 9.0 P under the Android Beta Program. The first developer preview builds of Android P are up for the Google Pixel devices. The latest Android version may most likely be called "Pie". However, that is something to be confirmed later. Along with several other features, here we have the latest Pixel Launcher based on Android 9.0 P. The latest launcher features a new and improved design and brings more stability to the complete Home.
So download and install the latest Android 9.0 P Launcher on your device right now. The new Pixel Launcher can be installed on most of the Android device. As it is a port, it will install on devices running Android Oreo, Nougat, or earlier. Install it as normal APK.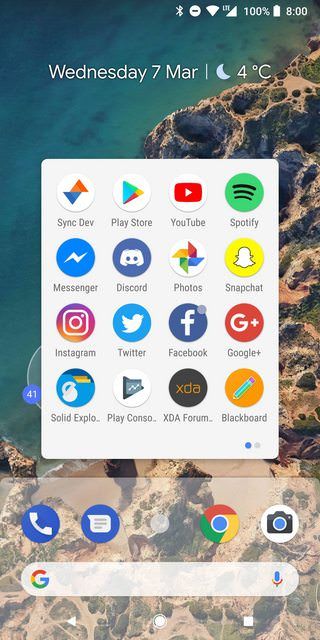 The above image features the new Pixel Launcher with new Android 9.0 P design. If you look closely, you see some changes to the dock. The dock is now shaded. More icons now get rounded such as the Mic icon.
If you are coming from the previous Rootless Pixel launcher based on Android 8.1 Oreo, we posted about some time ago, then you won't find a significant change.
Download Pixel Launcher based on Android 9.0 P
The following APK is a Pixel 2 port from the latest Developer Preview of Android P. Download it and install it as normal APK. however, if you already have any other Pixel or Nexus Launcher installed, then you will have to uninstall it first and then install the Android P Launcher.
You may also like Rootless Pixel Launcher 3.2+. Like us on social media for more such updates.