Update: Adhell 2 is here for download. "What the hell.?!"… Well, this is the exact phrase we exclaim when we see Ads popping up while we use an Android App.It's very common occurrence to see Ads, mostly when we are using free Apps.The App developer makes money from those Ads. But there have also been cases of illegal Adware, and JUDY Adware is a recent example. So, the question is how users can use an App without the meddling of Ads?. If, you use any Samsung smart device, and wonder how to stop Ads in Samsung Smartphones, then let us tell you about Adhell.
Adhell is not just limited to blocking ads. It has a special feature called a package disabler; which is one of the most sought things for Samsung devices. Though it works for non-rooted Android devices, the app does its job seamlessly. You can disable services, packages, system apps on your non-rooted Samsung phones for free using Adhell. These packages may include Bixby, stock or system apps, etc. Adhell is a non-official open-source app that can do the following:
Block Pop-up Ads device wide.
Disable apps/services that user doesn't require.
block URLs of websites you don't want to access.
How to stop Ads in Samsung Smartphones Using Adhell?
Adhell uses the Samsung KNOX Standard SDK, which provides access to a comprehensive collection of Mobile Device Management (MDM) features.
Note:  Adhell is only designed to work on Samsung Smart devices exclusively.
As you start running Adhell, it will notify You to Activate Device Administrator.And it is required so that
Adhell will be able to perform its tasks based on it.
Able to configure the network rules.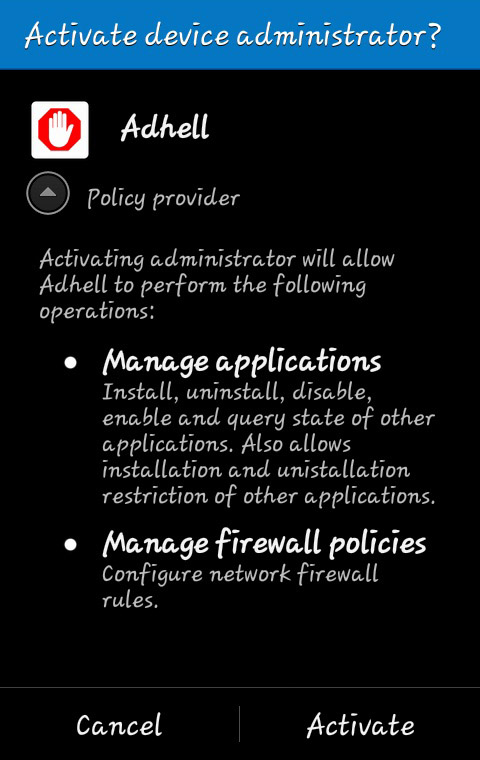 Next, on Activating Device Administrator, you will be asked to Enable Admin Privilege so that Adhell could run.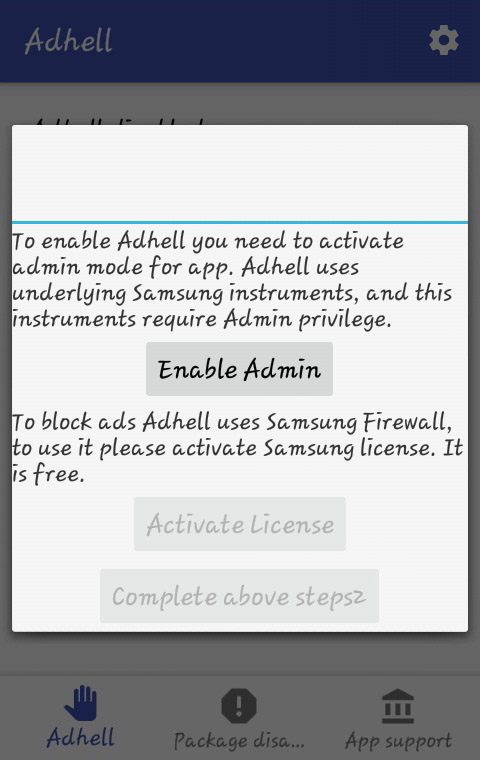 You will also be asked to activate Samsung License so that Samsung Firewall could be enabled.
Samsung Firewall is the tool used by Adhell to block Ads.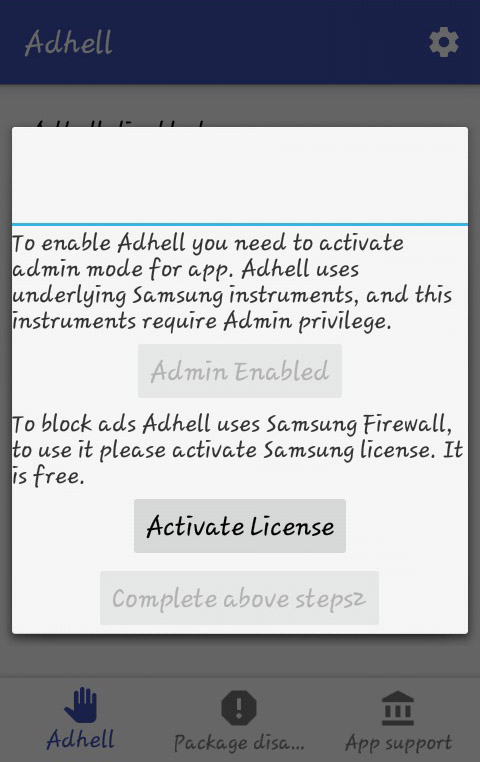 Then Click Confirm to acknowledge the Privacy Policy.
(who reads the agreement anyways…Anyone? 😛 )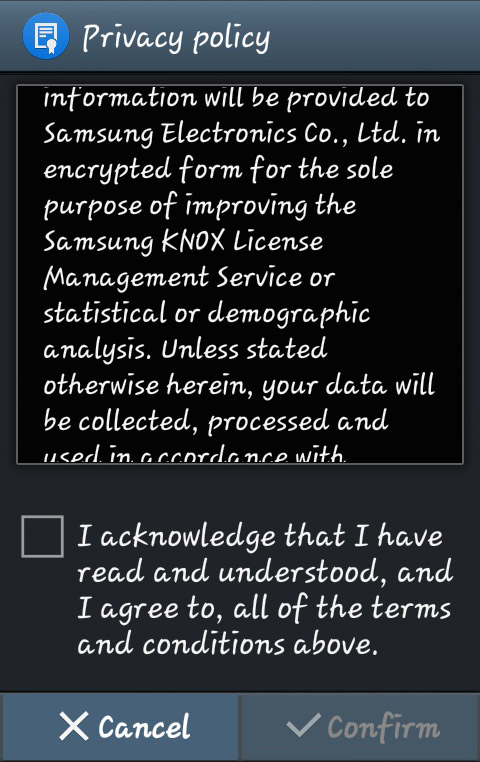 ADs: A Necessary Evil In Technology Domain which can be blocked
Let it be web page running on PC or an Android App, we experience a lot of  Ads while we use them. Where do these Ads come from..?.
Well, Ads are the source through which the developers earn their revenues.Sounds legit?.
It is all right if we see one or two Ads maybe while using our App that too in the corner screens.
But if lots of Ads pop-up every other second, that too right on the middle of our workspace, its not an user-friendly App. Heck, it could be illegal Adware/Malware.
So, that is where Adhell comes in (provided You use a Samsung device).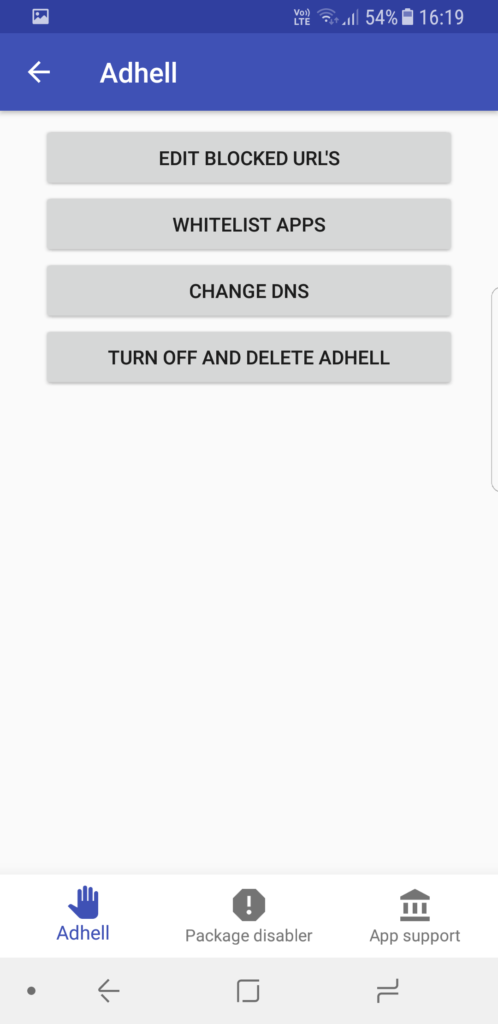 The user can select the Apps on which Ad ban should take place.
select WhiteList Apps to do the same.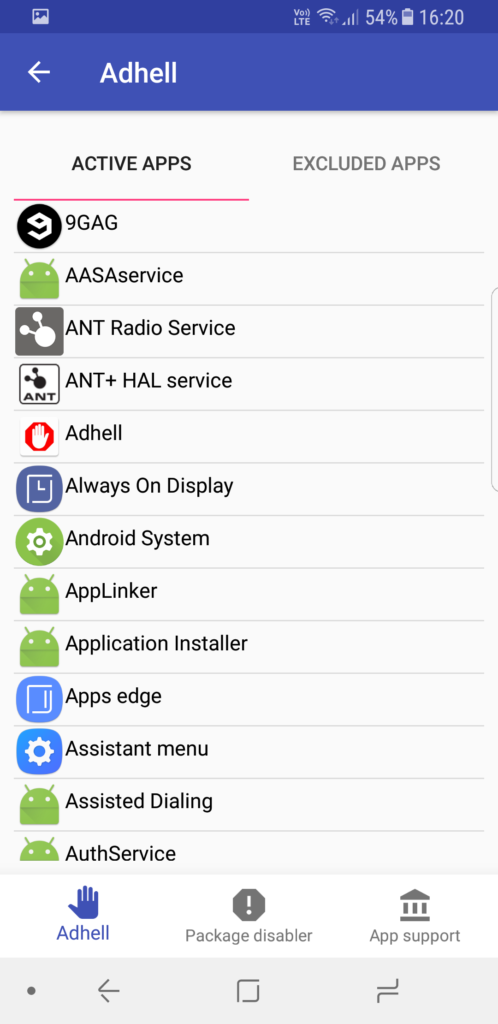 Application whitelisting is the practice of specifying an index of approved software applications that will be run on a device.
Block URLs using Adhell
Well, you can block URLs using Adhell. Any website which you do not wish to visit or You want to keep your children away, just follow these steps.
Step-1 :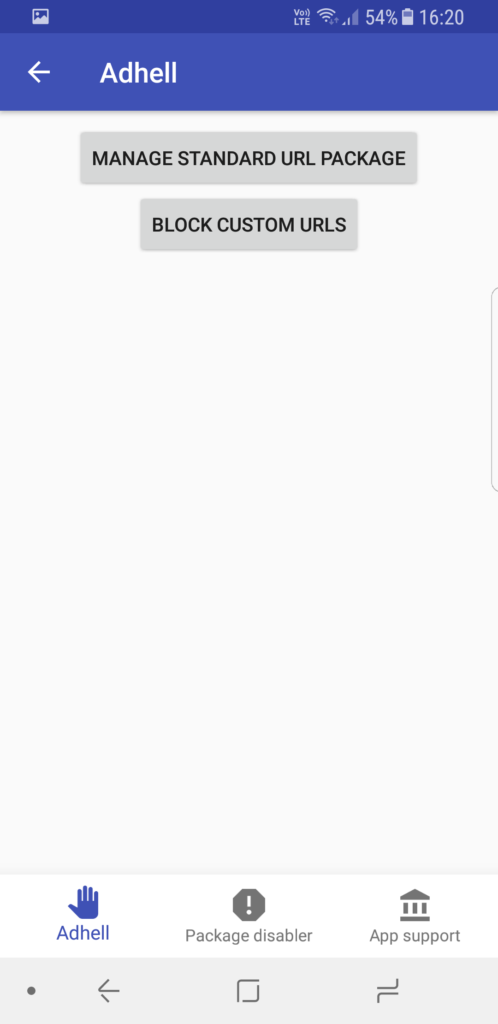 MANAGE STANDARD URL PACKAGE provides the list of a set of URLs which You can further classify as Allowed or Blocked.
Step-2 :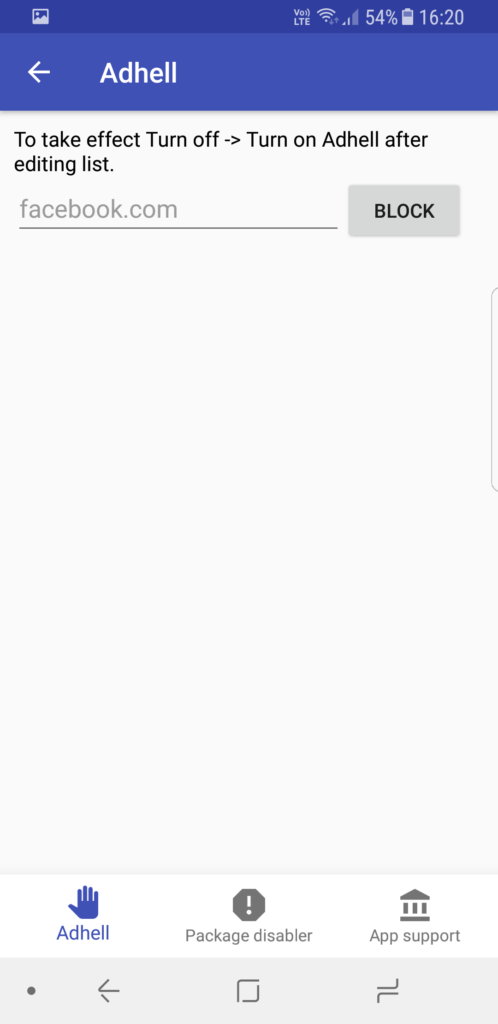 This dialog will come up if You press BLOCK CUSTOM URLs.
Package Disabler will Disable the Apps or packages not required by users
Adhell comes with Package disabler to disable Apps that are not required and is consuming battery of your device.
Follow these simple steps to Disable Unused Apps and Debloat your device.
Step-1: Go to Package Disabler Option on Adhell.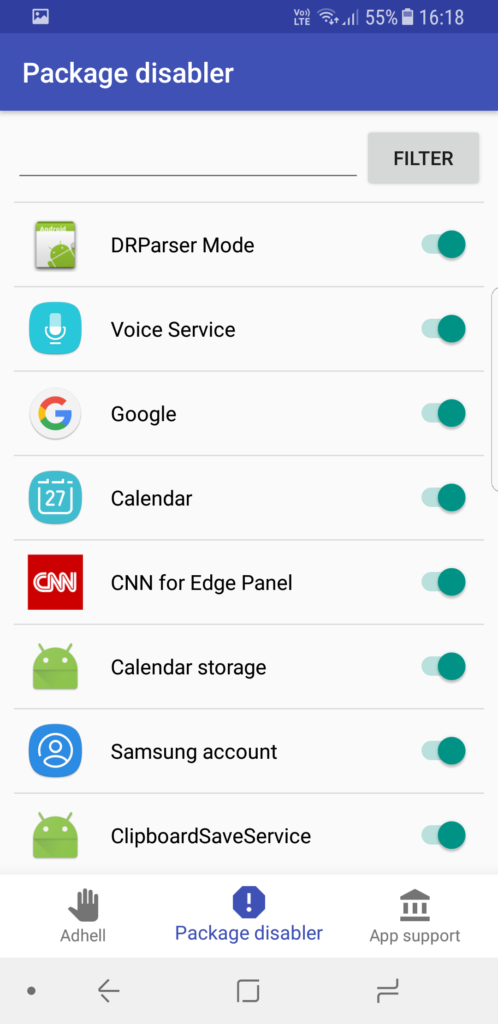 Step-2: Select the application You want to disable and click on "Filter". The concerned App will be disabled.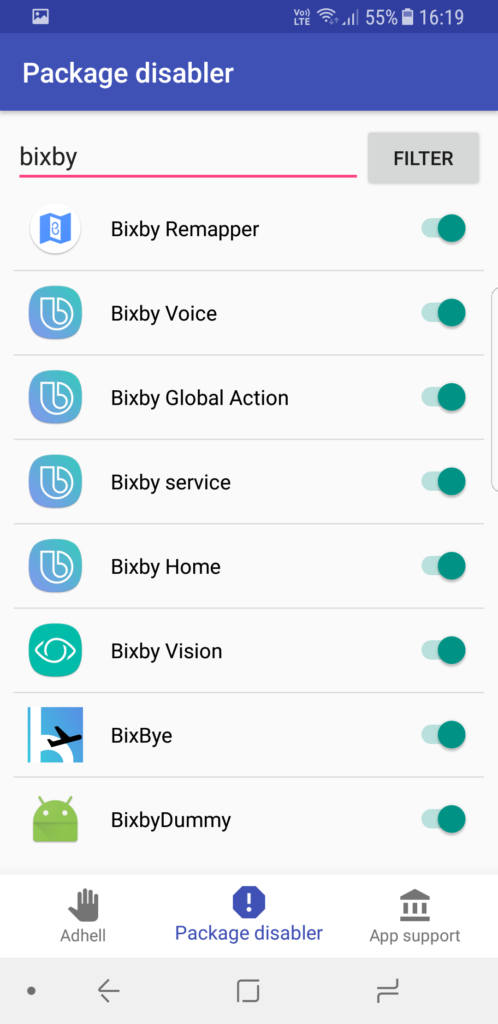 Pros And Cons
So we just learned how to stop Ads in Samsung smartphones using Adhell. We can also BLOCK URLs and Disable Unused Apps.
Well, in addition to these features Adhell has got some advantages and disadvantages.
Pros
Absolutely free (when compared with its competitors).
To install/run no rooting of your device is required.
Recent update supports devices on Android 7.0 Nougat.
Cons
It is only available for Samsung smart devices.
It is a non-official App, meaning it's an open-source App that uses Samsung API.
Raise Some Hell for Annoying Ads with Adhell
Therefore, now that You know how to stop Ads in Samsung smartphones using Adhell and disable unused Apps or block URL of any website, You should try it out.
It's a freebie and runs on the latest device as well as supports device on Android Kitkat. You can also remove it anytime You want.
And it has got really good user reviews in the review section of Adhell at play store.
So Adhell seems like a total Win-Win for users who hate Ads on their devices.
So, try it out and let us know your experience.
Update – Download Adhell 2
Adhell 2 is now available. Samsung officially have taken down the Adhell from Play Store due to security concerns. Now the developer have released AdHell 2 for the same. Well, here is the latest update on Adhell we want to share. For some reasons, Adhell APK is not being hosted on GoogPlay store anymore. So we are hereby providing You with the new mirror links from where You can easily download the Adhell APK.
Download Adhell 2 APK | Direct download APK
Adhell original APK | Mirror link