Updated: iPadOS 13, Mac OS Catalina, and Apple Mac Pro wallpapers are now available for download. iOS is one of the most popular mobile operating system and the proprietary software for all Apple Inc. smartphones. Today at WWDC19 yearly event, Apple announced their newest version of operating system iOS 13. The iOS 13 comes with many new exciting features for the latest iPhones and iPads. Apart from that we get macOS 10.15 codenamed Catalina for the latest MacBooks and watchOS 6 for the Apple Watch 4. These latest software are now available for download as developer previews and here are the latest wallpapers from iOS 13.
According to the Apple's WWDC 2019 event keynotes, the iOS 13 features Dark Mode, and new functional updates to Photos, Maps, Messages, and more. New privacy and security options are also available. The iPadOS 13 introduces a redesigned home screen layout just for the iPads. Multitasking feature allows you to work on multiple apps and files at the same time. More gestures for editing text and desktop-class browsing are also features in iOS 13. The watchOS 6 introduces new faces, discover cycle tracking. shop for apps from your wrist, and new insights for health and fitness.
Moreover, macOS Catalina features new Music, Apple Podcasts, and Apple TV apps for the MacBooks. You can now use more of the apps you use every day right on your desktop. You can also extend your workspace by using an iPad as a second display. The stable version of iOS 13 and macOS will come to older devices too via stable channel.
Here are the key highlights of the latest Apple event 2019: 
Download iOS 13, iPad OS 13, macOS, and watch OS wallpapers official stock [Total 8]
Here are a total of 8 high resolution wallpapers from iOS 13, iPadOS 13, and macOS Catalina for all of your devices. The wallpapers are high definition with a resolution of 3208px × 3208px each over 10 MB in size.
iOS 13 wallpapers wallpapers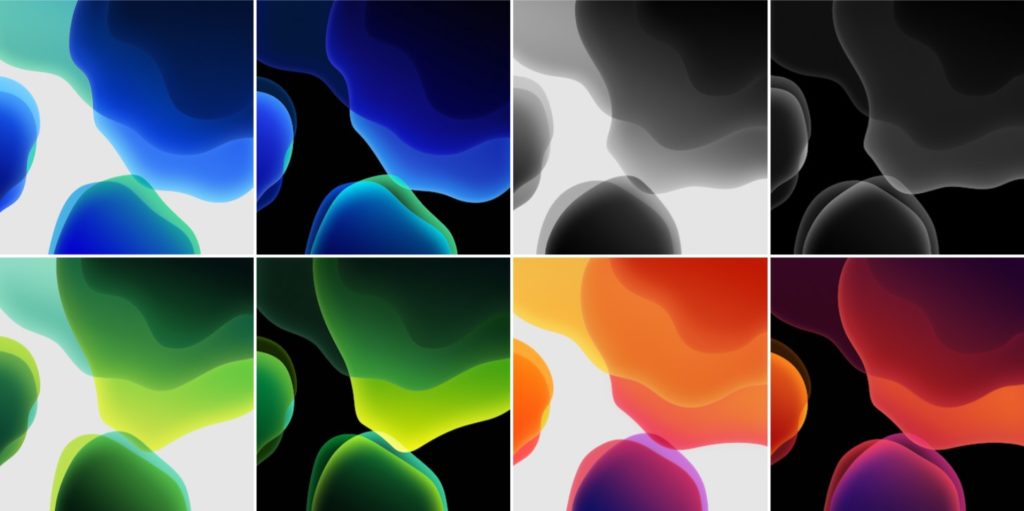 Official Downloads:
For Google Photos link, select the wallpapers you want, click on the 3 vertical dots at the top right, and then download or save to device.
Download Apple Mac OS Catalina Wallpapers
Here are the official Apple Mac OS Catalina Wallpapers available for download. This it the dynamic wallpaper in .heic format, it may not work on all devices. It has the highest resolution of 6016 × 6016 and weighs around 50 MB in size. Total of 3 wallpapers.
Download Apple Mac Pro Catalina Wallpapers
Apple also launched a new Mac Pro with a new monitor and a stunning wallpaper. Although it is demonstrated as a live wallpaper, we only have a static wallpaper from Apple Mac Pro because the format may not support all devices. Moreover, it has a resolution of 4096 × 2265 and weighs around 9 MB in size. Total of 1 wallpaper.
Bonus: Apple iPad Air 2019 and iMac 2019 Wallpapers
Here are the bonus Apple iPad Air 2019 wallpapers that was introduced earlier this year. Along with the new iMac 2019 wallpapers below.
More wallpapers updated:
It is better if you open them on your PC. Makes it easier to download.