The Moto X4 is one of the most popular Android smartphones from the manufacturer – Motorola. Moto X4 comes in 2 variants – one comes under Android One project and the other is a regular model with Motorola software installed over it. Google resurrected the Android One project this year by releasing several Android One devices in collaboration with some trusted manufacturers like Motorola, HTC, Xiaomi, etc. This engendered the stunning Moto X4 Android One device. Now, the Moto X4 is receiving Android 8.1 Oreo OTA update.
Now that Google's Android 8.1 Oreo AOSP sources are readily available, a lot of manufacturers are looking forward to releasing the same. This makes Moto X4 one of the first devices to receive Android 8.1 Oreo update this early. It brings a new firmware build number OPW28.48-3 to the phone along with the March 2018 Android Security Patch. The OTA is rolling out across the globe starting with the X4 Android One – retus variant.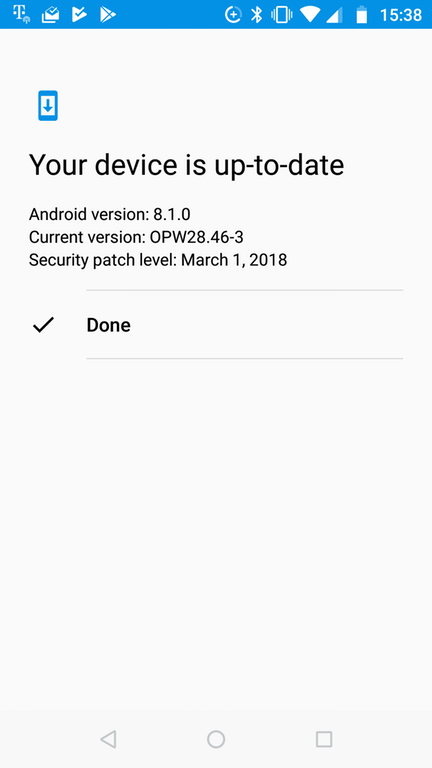 Not much is know about the firmware update as of now. We do not have the change log just now. Rest assured, your device will receive all the Android 8.1 Oreo goodies like Picture-in-Picture, advanced autofill for username and passwords, support for Autofill API, notification channels and snoozing, stricter background app limitations, and more.
How to update Moto X4 to latest Android 8.1 Oreo firmware update?
Following you will find the latest available factory images or firmware files right from the initial Android 7.1.1 Nougat to the latest Oreo. At the time of writing this post, the current Android 8.1 Oreo OTA or full stock firmware zip files aren't available. We will update the 8.1 Oreo firmware files or factory images once they are available.
So the only way to download and install Android 8.1 Oreo onto Moto X4 is to update your device to 8.0 Oreo and capture the latest OTA update by going to Settings > System Updates > and check for OTA updates.
Download Moto X4 Android 8.1 Oreo Factory Images or OTA updates
In order to capture the latest Android 8.1 Oreo OTA update, your device needs to be on the previous Android 8.0 Oreo firmware update.
Following you will find factory images for the
Following you will find the factory images for Moto X4 XT1900 variant.
How to install Moto X4 factory images?
The uses of flashing a factory image is it  will take your Moto X4 to factory state. It will remove all the modifications, root, lags, etc. from your device and install a fresh software.
Once your device is on latest stock firmware, get to the Android 8.1 Oreo via OTA.
Requirements:
Installation Instructions:
This procedure will flash the factory image. Any factory image you have downloaded and will do a clean flash. So backup your data and apps.
Download the latest factory image for your Moto X4 variant. Transfer the files where the ADB and Fastboot environment is setup. If you use the 15 second installer, then place the files anywhere.
Make sure that you setup ADB and Fastboot on your PC. Trust the connection by checking "Always allow from this computer" when you plug in the device for the first time.
Now turn off your device completely and unplug it from your PC.
Reboot your Android device into Bootloader mode or Fastboot mode. To do so, press and hold volume down + the power button for a few seconds. Choose Fastboot if such an option is available.
Now go to the location where the factory image and OTA are available on your PC. If you are flashing the factory image, then extract the firmware files and open the folder.
Open a command prompt or cmd window or terminal in the same folder. Hold shift key on the keyboard and right-click on an empty space and select "Open command window here".
Connect your Android to PC and test connectivity by issuing the following command:
fastboot devices
Method 1: You can either download the Moto X4 firmware flashing script which will automatically flash the factory image,
If you happen to choose the method 1, the download and paste the Script Flash Android Moto X4.bat file into the extracted folder and run it on your Windows PC.
OR Method 2: You can manually flash each and every file in the ectracted firmware folder by issuing the following commands. Each string is a firmware file. So make sure you have flash each and every file.
Note: that you type the exact name with its proper extension. You can also use keyword- fastboot. Count the number of sparsechunk files and flash each one.
Code:
mfastboot flash partition gpt.bin
mfastboot flash bootloader bootloader.img
mfastboot reboot-bootloader
mfastboot flash modem NON-HLOS.bin
mfastboot flash fsg fsg.mbn
mfastboot erase modemst1
mfastboot erase modemst2 
mfastboot flash bluetooth BTFM.bin
mfastboot flash dsp dspso.bin
mfastboot flash logo logo.bin
mfastboot flash boot boot.img
mfastboot flash system system.img_sparsechunk.0
mfastboot flash system system.img_sparsechunk.1
mfastboot flash system system.img_sparsechunk.2
mfastboot flash system system.img_sparsechunk.3
mfastboot flash system system.img_sparsechunk.4
mfastboot flash system system.img_sparsechunk.5
mfastboot flash system system.img_sparsechunk.6
mfastboot flash system system.img_sparsechunk.7
mfastboot flash system_b system_other.img
mfastboot flash oem oem.img
mfastboot erase carrier
mfastboot erase userdata
mfastboot erase ddr
That's it now, reboot your device to system.