Nothing Tech just recently launched their second generation smartphone named Phone 2. The phone is being showered with major software updates featuring camera improvements, system improvements, and several bug fixes for stability. Today, the firm released its third software update with the build Nothing OS 2.0.3 for the Nothing Phone 2. Download the OTA here.
Nothing OS 2.0.3 is now rolling out to all Phone 2 devices with a new Compass widget, a new pocket mode UI, more app support for Glyph progress, improved "OTG Compatibility", and much more.
The update also brought several bug fixes like increasing the Screen Recorder capture resolution, adjusting the animation speed of the keyboard, and improving haptic feedback, NFC, and Bluetooth stability.
The previous Nothing OS 2.0.2a features tons of camera features and optimizations. These improvements make it easier to take clear, well-exposed photos in various lighting conditions.
The new on-screen indicator made it easier to see when HDR is active, so you can be sure you are getting the best possible results. Other improvements help to reduce noise and artifacts, resulting in sharper, more natural-looking photos.
Nothing OS 2.0.3 Patch Notes
What's New

Added the Compass widget. After placing it, swipe down to see more detailed information.
Added new UI to show when the device is pocket mode.
Added support for Zomato in Glyph Progress. Navigate to Settings > Glyph Interface > Glyph Progress to enable this integration.
Added and improved "OTG Compatibility" toggle in Settings > Connected devices > Connection preferences.

Improvements and bug fixes

Increased the Screen Recorder capture resolution.
Adjusted the animation speed of the keyboard popping up after opening the app drawer.
Improved haptic feedback. Improved NFC stability.
Improved Bluetooth connection stability in various scenarios.
Minor UI adjustments.
Minor bug fixes.

Update size: 99.39 MB
Download Nothing OS 2.0.3 OTA Update
Here are the OTA update zips for the latest Nothing OS 2.0.3 stable available for download directly from the manufacturer's servers.
Note: The EEA & Global variants have the same firmware now as they have been unified! This is great news as you only need a single file. Codenames – Pong (Global A065) – PongEEA (Europe A065) – PongIND (India AIN065)
How to Install Nothing OS 2.0 onto Nothing Phone 2?
You can Nothing Phone by installing Nothing OS OTA update zips manually via ADB sideload method or recovery method. See the tutorial on How to install OTA updates on any Android device?
Install OTA using Local Upgrade method
Create a folder named "ota" (without the quotes) at the root of the internal storage. Meaning outside every folder.
Copy the OTA update ZIP file from above to that folder.
Open the phone app and Dial *#*#682#*#*
This should launch an offline update tool.
The tool will scan for an OTA file from internal storage and install it.
If that fails, you can manually browse for the OTA package.
After selecting the OTA file, the wizard will apply the update.
Reboot the device and you are on the latest firmware.
Note: If the dialer doesn't work in your region,
You can also use the Activity Launcher app or QuickShortcutMaker to locate and execute the "OfflineOTAUpgrade" tool.
The package name you should be looking for is com.nothing.OfflineOTAUpgradeApp.
Troubleshooting Error Code 2
Note: If you receive Error Code 2 while installation like this: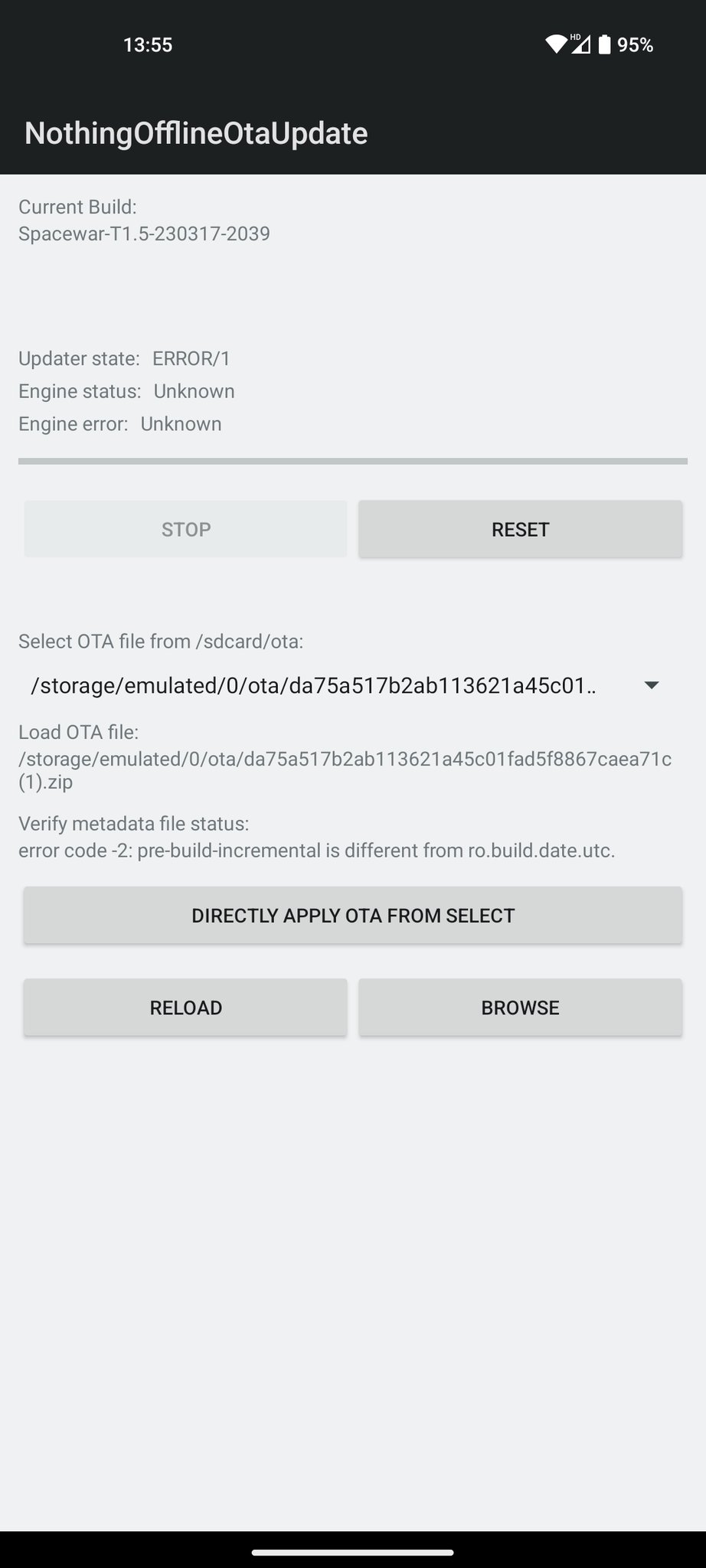 Set the time zone to Cina, Shangai to use the offline updater or local upgrade.
Go to settings > Search Date & Time > untick automatic hours > Set timezone to Region China / Shangai.
Retry installation. Thanks to M1Κ4_3L.