Xiaomi is about to release MIUI 11 update for most of the the Redmi and Mi series phones including tablets. MIUI 11 ROM is based on Android 10 Q and already under closed beta testing program. This is the successor ot one of the most popular Android ROMS called MIUI 10. The MIUI 10 quickly became popular with the Xiaomi community for its revamped user interface, improved performance, and light weight design. The MIUI 11 consists of all the features from the the previous firmware and brings a lot more to the plate. Here is the list of Xiaomi devices receiving MIUI 11 update.
MIUI 11 features smoother animations, user interface changes, optimizations to the system, and performance improvements. Most importantly, it brings new features to the plate like native Global Dark Mode, improved energy saving functions, monochrome power saving mode called Super Power Saving Mode, new MIUI Launcher, added App Drawer support, new icons and fonts, and updated system apps. The previous MIUI 10 featured Android 9 Pie and all of its goodies. It introduces the remarkable swipe gestures for navigation, lightweight design, and revamped use interface.
MIUI 11 ROM will also be light weight to the core. This makes sense because most of the  manufacturer's devices are budget phones with low-end hardware configuration. So running a software that is light means improved performance and battery life. Additionally, the firmware update will also feature all the Android Q goodies.
At present, the MIUI ROM based on Android 10 Q is already available for download for 3 smartphones including Mi MIX 3 5G, Mi 9, and Redmi K20 Pro. This comes under Xiaomi's Android Q Beta program. Furthermore, it is reported that the Xiaomi will roll out the MIUI 11 public beta ROMS for several Android phones and eventually start releasing the MIUI 11 Global Stable ROM by the end of September in a phased manner.
Here is how the new MIUI home launcher looks like in Android 10 Q beta:
List of MIUI 11 Android 10 Features
Xiaomi's started testing the Android Q firmware update earlier this month. The closed beta testing program is already underway. According to the beta testers, the latest MIUI Q ROM features a new MIUI Home Launcher, new set of icons, new fonts, new animations, improved swipe or navigation gestures, and much more. You can also expect support for Digital Wellbeing embedded right under Settings app.
The most important feature of the MIUI 11 ROM is the native Dark Mode. While you can still enable Dark Mode in MIUI 10 on most of the Xiaomi phones, MIUI 11 provides a dedicated dark Mode option right under settings. Moreover, you will find a dedicated global dark mode option to automatically turn on dark mode systemwide even in stock and third-party apps. The Global Dark Mode option can mean one thing for sure. The stock MIUI apps like messages, camera, settings, contacts, phone, Mi Cloud, Mi Community, etc. will also support dark mode.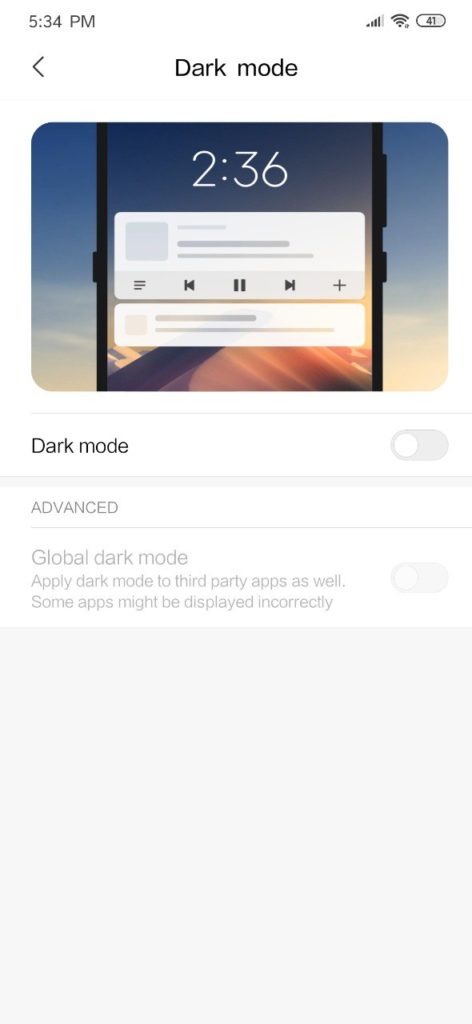 Features from MIUI 11 beta and stable ROM
New MIUI Launcher
New Icons
New Fonts
App Drawer support
Dark Mode
Faster Face Unlock + Fingerprint Unlock
Smoother Animations
New loading animation
Improved energy saving function
Voice unlock commands
New AI Features
Display emergency contact on lock screen
Private albums for videos
Status bar optimization
Battery charging status on an info screen
Stereo sound for Bluetooth headphones
Improved app permissions management
New monochrome power saving mode called Super Power Saving Mode
Here is the K20 Pro running MIUI ROM based on Android Q:
List of Xiaomi devices receiving MIUI 11 Android 10 Global Beta ROM
Xiaomi recently announced the list of devices receiving the MIUI 11 Public Beta ROMS. Here are the first, second, and third set of devices to receive the developer ROM first. Later, MIUI 11 Global Beta ROM will be released.
MIUI 11 first batch of public beta supported devices:
Mi9 Explorer
Mi9,
Mi 9SE,
Mi MIX3,
Xiaomi CC9,
Redmi K20 Pro,
Redmi K20
MIUI 11 second batch of public beta supported devices:
Xiaomi CC9E,
Mi 8, Mi 8 Explorer,
Mi 8SE,
Mi MIX 2s,
Mi MAX 3,
Mi Note3,
Mi 8 Jichun version,
Mi 6,
Mi play,
Mi 6X,
Redmi Note 7,
Redmi Note 7 Pro,
Redmi 7,
Redmi Note 5 (and Indian 5 Pro)
MIUI 11 third batch of public beta/stable supported devices:
Mi MIX 2,
Mi MiX,
Mi MAX 2,
Mi 5X,
Mi 5,
Mi 5s Plus,
Redmi 5 Plus,
Redmi Note 5A,
Redmi 6 Pro,
Redmi S2
List of Xiaomi devices to receive MIUI 11 global stable ROM
Redmi K20
Redmi K20 Pro
Xiaomi Mi 9
Xiaomi Mi 9 SE
Xiaomi Mi 9T
Xiaomi Mi 9T Pro
Mi8
Xiaomi Mi CC9
Xiaomi Mi CC9E
Xiaomi Mi A3
Mi Mix 3
Xiaomi Mi Mix 2S
Mi Mix 2
Mi Mix 1
Xiaomi Mi 6X
Mi 6
Mi 5X
Mi 5c
Xiaomi Mi 5s
Mi 5s Plus
Redmi Note 8
Note 8 Pro
Redmi Note 7
Redmi Note 7 Pro
Xiaomi Redmi Note 6
Redmi Note 6 Pro
Redmi 7
Redmi 6
Redmi 6A
Xiaomi Redmi 6 Pro
Redmi S2
Redmi 5 Plus
Xiaomi Redmi 5
Redmi Note 5A
Redmi Note 5
Redmi Note 5 Pro
Xioami Redmi 5A
Redmi Note 4X / Note 4
Mi Pad 4
Mi Pad 4 Plus
Xiaomi Poco F1
These aren't the official announcements. Stay tuned for more information. The MIUI 11 update will also be listed as soon as the ROMS are available for download.